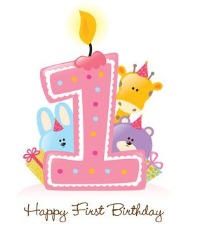 1st Birthday Party Ideas
Its your baby's first birthday. And you want to celebrate.
But is your baby too young for a party? Absolutely not!
These simple but fun 1st Birthday Party Ideas
Are a perfect way to show just how special a certain someone is!




There is lots of advice out there for planning parties for children but not quite so much for babies.
The real trick is not to worry too much about coming up with lots of novel ideas. Just think what your baby likes doing or might enjoy and go with it.
The first decision you need to make is whether to plan your birthday celebration for family or friends.
Family Celebrations
Babies inevitably occupy a very central focus in most families. Their birthday therefore becomes a great excuse to get the family together. There really is something special about a lovely family celebration perhaps with brothers, sisters, cousins and, of course, both sets of grandparents.
Celebrations With Other Babies
Most parents have friends with babies of a similar age. Getting together with other parents provides a ready made bunch of playmates for party fun.
This could even be referred to as the ultimate BYOB party except instead of "Bring your own bottle" its "Bring your own baby!"
Both options are great fun and you will probably be tempted to include both family and friends. Too many people however can be a bit intimidating for young children.
So if both ideas are appealing simply have 2 really nice smaller celebrations.
Pick any of the ideas below to guarantee First Birthday Party Fun:

1st Birthday Party Ideas - Birthday Crowns
This is a nice way to involve older children (and remind them that they are special too). In advance of the party get them busy with the construction card and craft paper to make a special crown for the party boy or girl. They could even make one for all the guests - you know how Granny likes to dress up!
1st Birthday Party Ideas - Sing-A-Long
Amidst all the excitement baby will love something familiar. Get the youngsters on laps and work your way through all the tunes they do at nursery / playgroup. Clapping and actions can only add to the fun and should be compulsory for all party guests. Baby will love seeing Dad touch his nose and pat his tummy.
Great tunes for baby parties:
Wheels on the bus
Pat a cake
Round and round the garden
Down at the bottom of the deep blue sea
Ring a ring of roses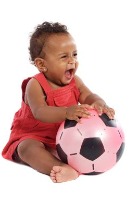 1st Birthday Party Ideas - Roll The Ball
This is a very simple game but young kids like it. Parents sit on the floor in a small circle with babies on their laps.
Roll a large soft ball across the centre from one to another.
1st Birthday Party Ideas - Mattress Mayhem
On a clean floor bring down a mattress and cover with a blanket. This makes a great baby bouncer. Bounce the babies on their bottoms or do Tigger bounces, Kanga jumps etc. Good for general rolling and squirming also!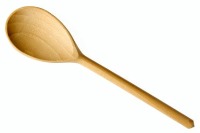 1st Birthday Party Ideas - Bang The Drum
This is straightforward. Provide the young drummers with a wooden spoon each and a selection of tins, old saucepans, plastic washing up bowls etc. Join in with some enthusiastic singing and drumming.

1st Birthday Party Ideas - Rubbish Rumble
Its often wryly noted that young kids are more interested in the packaging their presents come in. Why not use this idea and provide a selection of cardboard boxes of all sizes to stack up, knock down, sit in, crawl through etc.
1st Birthday Party Ideas - Pile of Paper
A large pile of shredded paper on the floor is toddler heaven. Help your party boy or girl to dive in and have fun!
This makes a great spectator sport too and what kids couldn't resist stuffing Grandad's jumper so he looks like a scarecrow?
Shredded paper is often available in many offices where confidentiality is important - ask around your friends. If not lots of scrunched up newspaper can be an option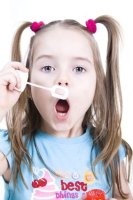 1st Birthday Party Ideas - Bubble Blowing
Have some bubble blowing equipment to hand for 10 minutes of bubble chasing fun. Its also a great way to involve older children in blowing the bubbles.

---
So there you have it.
Lots of ways to make that first birthday extra special.
And to finish here's a little ditty you can adapt for your own child to sing to the tune of "The wonderful thing about Tiggers"


Oh the wonderful thing about Janey
Cos Janey's a wonderful thing
Is that we can all go to her party
A Happy Birthday to sing
She's good at walking
Just started talking
And really lots of fun
But the best thing about our Janey is
Today she's Number 1!


---
---
To leave 1st Birthday Party Ideas and return to the
Better Party Ideas Home Page please click here
Toddler Party Ideas l Kids Party Ideas l Teen Party Ideas l Adult Birthday Party Ideas
Holiday Party Ideas l Halloween Party Ideas l Slumber Party Ideas l l