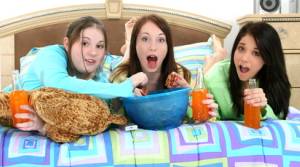 Slumber Party Ideas
The best slumber party ideas
For a Sleepover Sensation!

Calling all Pajama Party Animals - Its time to get ready!



Having your friends round for a sleepover is brilliant. But how do you make sure that your guests aren't glad when its time to turn out the light?
Relax we've got all the best sleepover party ideas you could possibly need. And quite a few more!
A bit of planning before the fun starts is all that's needed to turn you into the hostess with the mostess! Oh and some friends who are up for a bit of fun!
Discover lots of neat ideas, tips and wrinkles that will help make your party the very best. From slumber party invitations to slumber party games. We show you how to make your special night with your friends a sleepover sensation!
So whether you are a young girl planning her first sleepover party, or a teenager plotting a girl fest with her mates, we've got all the pajama party ideas you need.
So don't settle for a snore bore!
These sleepover party ideas are sensational:


Slumber Party Planning

Slumber Party Games

Slumber Party Pranks

And for a bit more fun how about making some pizzas?

Kids Pizza Party
---
Did you have a brilliant sleepover party?
Or do you have a neat idea or slumber party game
That you and your friends loved.
Please tell us all about it.
We will feature all the best ideas on these pages.
---

To leave Slumber Party Ideas and return to
The Better Party Ideas Home Page please click here
Toddler Party Ideas l Kids Party Ideas l Teen Party Ideas l Adult Birthday Party Ideas
Holiday Party Ideas l Halloween Party Ideas l Party Ideas Blog l