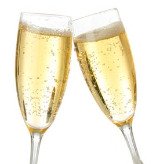 Party Toasts
And Speeches
These party toasts are perfect
For weddings, birthdays, anniversaries and all sorts of other celebrations


Raising a glass to honour someone or something is a tradition found in nearly every country of the world.



Whether at a formal occasion, or an informal party, toasting has always been an acknowledgment of sharing and celebration as a group.
The origins of toasting are debated by scholars but ironically seem in many cases to have been a demonstration that drinks had not been poisoned! The clinking of cups or glasses would, in some cultures, also involve mixing drinks from each person to visibly demonstrate this.
These days we use toasts on all sorts of occasions usually happy, sometimes sad, but always as a way of coming together and expressing shared views, achievements or aspirations.
Toasts will nearly always follow a short speech. The speech is in many ways an introduction, an explanation that sets the scene. The toast is the formal ending, the shared agreement of what has been said.
Toasts are a very handy way of adding a bit of structure to any party or gathering. They can provide a natural focus for an event when all attention should be on the reason to celebrate be it at a wedding, birthday or anniversary.
They are also a perfect way of marking the end of one part of the proceedings often before moving on to the less formal or structured part of the day.
Below are our pages of toasts. Perfect for any party or celebration:

Birthday Toasts

Christmas Toasts

Engagement Party Toasts

Wedding Toasts

The Perfect Wedding Anniversary Toast

Irish Toasts

50th Birthday Quotes

50th Birthday Speech

Funny 50th Birthday Poem

Funny Birthday Quotes (adult)

Over The Hill Jokes

---
---
To Leave Party Toasts and Speeches and return to
The Better Party Ideas Home Page please click here
Toddler Party Ideas l Kids Party Ideas l Teen Party Ideas l Adult Birthday Party Ideas
Holiday Party Ideas l Halloween Party Ideas l Slumber Party Ideas l Party Ideas Blog l