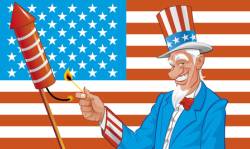 4th of July Party Ideas
Turn your Independence Day Celebration
Into Patriotic Perfection
With these great 4th of July party ideas!




The 4th of July is Independence Day in the United States of America. It commemorates the adoption of The Declaration of Independence by the Founding Fathers.
It is traditionally celebrated with parades and carnivals, picnics and barbecues and, in the evening, with fantastic firework displays.
Below are some great 4th of July party ideas that will turn your celebrations into a truly fun event for all the family.

4th of July Invitations
These have to be in some way connected to the American Flag - The Star Spangled Banner.
In many ways this makes life simple. Postcard sized invitations with the flag on one side and the 4th of July Invitation on the other are perfect.
Alternatively you may like to include pictures of The Founding Fathers or other well known American patriots.
Another great option is incorporating a picture of Uncle Sam - transform his catch phrase -

I want you for the US Army
into
I want you to celebrate 4th of July
Who could resist an invitation from Uncle Sam?
4th of July Decorations
The colours of America are Red White and Blue.
Use streamers and balloons in these colours to decorate your party venue.
Carry on the red, white and blue theme with your table decorations.
An Uncle Sam top hat, either shop-bought or hand-made from card and construction paper, make a great table centrepiece.
Hang American flags and bunting around your venue, you may like to include your home state flag also.
You could have a picture of The Liberty Bell (that iconic symbol of American Independence) hanging up somewhere. Or if you had a real bell hang it somewhere prominent for guests to ring as they arrive.
Another cute idea as guests arrive is to have them sign a Declaration with a mock feather quill (simply tape a feather to a normal pen).
How about getting all your guests to sign the following
I am an American and its Independence Day
I'm going to party the American Way!
4th of July Party Ideas - Games and Activities
A great many traditional party games can be easily given a 4th of July twist. Even simple red white and blue colours for party props can add a patriotic twist to your 4th of July party games.

4th of July Party Ideas - Make an Uncle Sam Hat

This is a great little icebreaker activity for kids to be getting on with while your guests are arriving. Have a craft table set up with card, ribbons, stickers etc. Terrific Toppers can be made from combining a column of card and a card brim (you may like to prepare a number of these in advance). Have the kids decorate these in red white and blue.
Of course you don't have to be historically accurate - let your young hat designers imaginations run wild. You may like to have a parade and judge the hats afterwards with a prize for the best creation.
If you wanted to of course you could ask all the young guests to prepare a 4th of July Hat in advance and bring it along for judging and a patriotic parade.

4th of July Party Ideas - Name The United States
Provide pens and paper and have people see how many states they can name in a given time. This works well for adults as well as kids. Make sure you have a list of all the states to hand as there is nothing worse than when someone comes close to all 50 but no-one can think of the last few.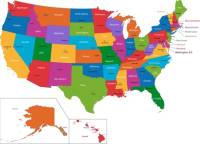 4th of July Party Ideas - Tug Of War
A tug of war may seem a bit too simple in these modern times. Take it from us however that it is always really popular with kids and tons of fun.
All you need is a stout rope and 2 teams. Give it a patriotic twist by having the mark in the middle of the rope tied with red white and blue streamers. The first team to pull those American colours over a marked line wins.
Don't forget to include adults at the end of your teams. There is no reason for them not to join in the fun!

4th of July Party Ideas - Patriotic Egg and Spoon
Just to show that nothing need be complicated
This is an easy 4th of July take on an old favourite.
Simply paint your eggs in red white and blue stripes.
Run the egg and spoon race as normal. Eggs must be balanced on a spoon and walked the length of your course.
You can make this harder or easier by varying the course and size of spoon. In this way young kids can compete against older children or even adults (desperately trying to balance an egg on a teaspoon).

4th of July Party Ideas - Flag Games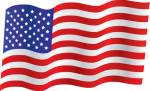 The American Flag the Stars and Stripes is an important part of any 4th of July celebration. There are many ways it can be combined in your 4th of July party games

Flag Races This is quite straightforward and any number of simple races and relays can involve carrying flags. An easy relay is to have a number of small flags on little sticks (the sort kids stick in sandcastles) and have them positioned either in a bucket of sand or stuck in the ground at one end of your garden. In turn the kids have to run and collect a flag and plant it in their teams sand bucket or home mound. You can make the course more or less complicated depending on the age of the kids. You could also include obstacles and specific actions that need to be performed during the race. Another option is to blindfold the competitors and then have an adult helper plant a flag for them to find directed by shouts from their team-mates.
Find The Flags - Imagine an Easter Egg Hunt but with flags. Make small flags from card or print off address label stickers with flags on them and attach them to small objects. Hide these around your party venue - the more imaginative you are the more fun. The team that finds the most wins.
Plant A Flag - Prepare a large map of the United States. Have a number of cities marked on it. Guests plant small pin flags marked with their initials on the map. The flag nearest to a pre-ordained lucky spot wins.
4th of July Party Ideas - Pop Goes The Statue
This is a simple addition to the traditional party game musical statues.
Prepare in advance a number of red white and blue balloons. Before or whilst inflating them insert several handfuls of tissue paper confetti in the same colours.
The children then dance around but, when the music stops, must stand still as The Statue of Liberty. Then a balloon (or 2) is selected and held well above the statues.
A pin is used to pop the balloon. Red white and blue confetti then flutters around the statues who must remain still during the bang and afterwards as the confetti flutters down.
Anyone who moves is out, but sometimes, especially with younger kids, its more fun to keep everyone in and simply repeat a few times.

4th of July Party Ideas - Ankle Poppers
This is similar to the game above but is better for older kids and teenagers. Tie the confetti filled balloons to the ankles of the guests. While gentle music plays they dance normally. But then when a hooter sounds mayhem breaks loose. Everyone tries to burst everyone else's balloons.
Tip: You may like to restrict the dancing area for this game.

4th of July Party Ideas - Pinata
Pinatas are a common feature of many parties and celebrations. A decorated papier machee shape full of sweets or treats is hung up. Kids take turns to hit it with a stick. Eventually it bursts open and a scramble of kids dive in to grab as many spilled sweets as possible.
You can purchase 4th of July Pinatas from party stores.
You can also make your own by covering a balloon in a light coating of papier mache and painted red, white and blue (don't forget to add the sweets when inflating the balloon). Pop the balloon with a pin when the papier mache is dry.
A pinata is a great way to end your party.
Warning - Beware children with sticks!
Keep all other children well back. Have a string on the stick looped over the wrist of the hitter to prevent flying stick accidents!


---
To leave 4th of July Party Ideas and return to
The Better Party Ideas Home Page please click here.
Toddler Party Ideas l Kids Party Ideas l Teen Party Ideas l Adult Birthday Party Ideas
Holiday Party Ideas l Halloween Party Ideas l Slumber Party Ideas l Party Ideas Blog l