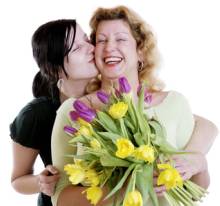 50th Birthday Gift ideas
Unusual 50th Birthday Gift Ideas
Because its not what you give but how you go about it!




Its the thought behind all gifts that is important.
This however becomes ever more true the older people get.
As you go through life your need or desire for "things" becomes less and less. Instead you are more likely to be impressed by someone having a neat idea, giving you a good gag present or something someone has made themselves.
The very best present you can give any 50 year old is spending some time, putting a little thought into the process and coming up with a really great idea for a gift.
Here are a few great 50th birthday gift ideas with a twist to tell that special 50 year old that they mean the world to you:

Special CD Compilation
Ok you can buy all sorts of ready made compilations for pretty much any era but how much nicer to put together your own. With new technology putting together a good compilation is not difficult. This also makes this idea something that might appeal to grandchildren or younger members of the family.
Without letting on your intention find out their best tracks. Ask other family and friends of the same age if they can give you a steer into the Birthday Boy or Girl's tastes. Don't restrict yourself to the music from when they were young pick any track that you know they like. After all you have 50 years of music to draw on. Perhaps you could choose 5 different tracks from each of their 5 decades.
Burn your compilation onto a CD and design a nice cover for it. Make sure you give it a cool name.
How about:
Fifty But Still Funky
Fab Sounds From Five Decades
The Big 5-0
Top Girls / Boys Top Fifty
Up Up and Away - In a Hot Air Balloon
What a fantastically special present idea for a 50th birthday.
Most balloon flight companies will issue vouchers for a flight which is then booked by the recipient for a date that suits them.
A great visual way to present this gift to the Birthday Boy or Girl is to attach the vouchers to a helium filled balloon. Weight the string of this balloon too so that it doesn't end up on the ceiling! Put your balloon in a decorated box. When the recipient opens the top the balloon floats upwards with the vouchers attached below.
Note: A balloon flight is much more fun with a partner or friend so if you can afford it always buy tickets for 2.

The Closest Ever Shave
This is a great gift with a difference for the chap who's got everything. 50th birthday gift ideas like this turn the everyday into something special.
Pay for a real old-fashioned Barbershop Shave.
Find an establishment that still likes to do things the old fashioned way with real shaving lather and a cut throat razor, where they finish up with hot towels and a spray of cologne.
A bit of indulgence for a man about town!

An Evening Curled Up On The Sofa With George Clooney
Well you ring up George Clooney. His number is...........................
Ok so assuming you don't have a hotline to the heart-throb you will have to go with the next best thing.
The evening you give your loved one actually involves a nice set of the star's DVD's.
Which just shows that even quite a common gift can be given a bit of pzazz with a neat name or gimmick. This is a trick that can be repeated with all sorts of 50th birthday present ideas.
Choose a star to suit your Birthday Boy or Girl.
I bet Dad would like to "Spend Some Time With Marilyn Monroe" or a "Night With His Team's Cup Winning Side" and Mum would go crazy for an "Evening With Barry Manilow!"

Now You're A Fine Old Vintage!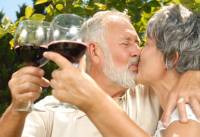 Just to prove that some things really do get better with age how about a wine-tasting experience.
An afternoon learning about wine, either at a local hostelry or vineyard makes a great gift for any 50 year old.
Some 50th birthday gift ideas are perfect for either men or women. Whether they still have a fruity young body or have mellowed with age!

Pampers and Pedicures - Makeovers and Manicures
Well everyone likes to feel beautiful. Book your special 50 year old lady some pampering sessions and bring out her natural beauty!
This is another treat that is best shared with another so if possible pay for a friend to go too! Little thoughtful touches like this make your 50th birthday gift ideas even more special.

More Treats for Birthday Boys
Some boys never grow up and these ideas are always popular. Check out the possibilities near you.
Drive a racing car
Drive a tank
Drive a steam train
Flying lesson (many small airfields offer a trial lesson and trip combination)
Trip in a glider
Fire an artillery shell
Trip to a big game
Days fly fishing (with instruction)
Clay pigeon shooting
And Some For The Girls
Trip to an ideal home exhibition
Trip to a dance show
Trip to a fashion show
Researching The Family Tree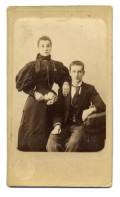 Some 50th birthday gift ideas can be special for the whole family.
50 is a great age to begin researching your family tree. Its so much easier to begin this while parents, uncles, aunties and relatives are still around.
There are all sorts of ways to turn this into a gift. It might be as simple as buying some books or one of the many genealogy computer programs. Or you might be able to set the ball rolling and ask family members to contribute information and photos which would make a good start.
---
Do you know any great 50th birthday gift ideas?
Or did you find a neat way of giving someone a gift.
Please tell us all about it
We will add all the best ideas to these pages.


---

To leave 50th Birthday Gift Ideas and return to
The Better Party Ideas Home Page please click here
Toddler Party Ideas l Kids Party Ideas l Teen Party Ideas l Adult Birthday Party Ideas
Holiday Party Ideas l Halloween Party Ideas l Slumber Party Ideas l Party Ideas Blog l