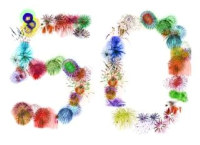 50th Birthday Quotes
Just turned fifty but still pretty nifty
These 50th birthday quotes are perfect for cards, gifts and celebrations




Well reaching 50 is an important milestone. Congratulations are in order......
Or on the other hand you may just like to rub it in a bit!!
These cute and funny 50th birthday quotations are just right for spicing up cards and letters.
A perfect way to let the Birthday Boy or Girl know that you appreciate their advancing years maturity and wisdom!!!
Nice 50th Birthday Quotations:
"By the time we hit fifty, we have learned our hardest lessons. We have found out that only a few things are really important. We have learned to take life seriously, but never ourselves."
Marie Dressler
"The years between fifty and seventy are the hardest. You are always being asked to do more, and you are not yet decrepit enough to turn them down"
T.S.Elliot
"I'm aiming by the time I'm fifty to stop being an adolescent."
Wendy Cope