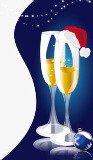 Christmas Toasts
Brilliant Christmas Toasts
Perfect for celebrating with family or friends
Every one a Christmas Cracker!

At every Christmas Party there should be a toast to one and all.




Traditional Style Christmas Toasts

~Welcome to our home at Christmas
We wish good health and happiness to one and all~

~Christmas is a time of cold weather but warm hearts~

~Joy to the whole world
And much love to those gathered around this table~

~Merry Christmas and a Happy New Year
With a glass thats full of wine or a mug that's full of beer~

~Pour more wine and drink the beer
For Christmas-time at last is here~

~ A drink at Christmas to keep us merry until New Years Day~

~May our family gathering be a Christmas Cracker~

~Dinner with all the trimmings: a sixpence in the pud
A toast to you at Christmas; may life always be this good

A tastier table would be hard to find
Our duty to the cook to make sure we do it justice~

~Here's to the cook and good health to us all~

~Peace and plenty for many a Christmas to come~

~To our friends before this day is done
Help us enjoy our yuleltide fun~

~To all our friends and family this Christmastide
May we be safe, warm and contented~

~May the love of us all reach around the world this Christmas

~Peace and love
With help from him up above~

~Thank you for sharing Christmas with us
May we all make merry and live life to the full on this happy day~

~A warm fire and the warm love of a family
Who needs more at Christmas?~

~Christmas spent with friends / family is the best gift of all~

~A glass of fizzy before we get busy. Health and happiness to all~

~Food a-plenty, presents galore
A drink in the hand, who could ask for more~

~May every Christmas be full of friends / family like this one~

Christmas Toasts With A Difference

~Have a cool yule~

~To the cooks at Christmas. May their birds be well and truly stuffed!~

~To my darling wife - a bird who certainly needs no Christmas trimmings!~

~May your Christmas Nuts be chobbled and your Turkey Dinner gobbled!~

~To my beautiful partner - a real Christmas Cracker~

~To you my darling - The best thing under my Christmas tree!~

~Eye spy Mince Pie but not as good as Christmas Pud - To the cook!~

~May your holly prickle
Your fire crackle
Your gifts delight you
And your crackers go….BANG!~


And finally....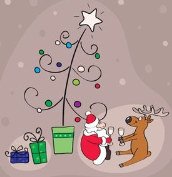 ~A toast to Rudolph whose bright red hooter
Guides Santa better than a sat-nav computer!~

---
To leave Christmas Toasts and return to
The Better Party Ideas Home Page please click here
Toddler Party Ideas l Kids Party Ideas l Teen Party Ideas l Adult Birthday Party Ideas
Holiday Party Ideas l Halloween Party Ideas l Slumber Party Ideas l Party Ideas Blog l