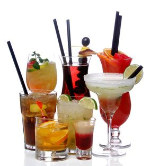 Halloween Drinks
Lip-smackingly tasty Halloween drinks
Perfect for any Halloween Happening!
Well its thirsty work haunting, ghosting and generally Halloweening. Here are a selection of great Halloween thirst quenchers that are just that little bit more.



Devil's Ginger
140g fresh ginger
4 tablespoons muscavado sugar
3 un-waxed lemons
1 litre sparkling mineral water
fresh mint
This is a neat version of common old ginger beer.
Grate and mash your ginger and place in a large bowl with your sugar. Add the peeled rind from the lemons. Use a pestle or end of a rolling bin to crush and mix the ingredients together slightly. Squeeze the juice from the now naked lemons (discard the pith and pips) into the bowl. Pour in your fizzy water. Allow to sit for 10 minutes. Add more sugar to your own taste. Pass through a sieve into a pouring jug filled with lots of ice and the chopped mint.

Spiced Cider Punch
1litre cider
2 cinnamon sticks
8 cloves
1 teaspoon of allspice
2 tablespoons of brown sugar
juice of 1 orange
This is a lovely warm spicy punch
Pour the cider into a large pan and add all the other ingredients. Bring to simmering point.
Pour into glasses and garnish with slices of orange.

Blood and Gore
24 strawberries
350ml white rum
This is a variation on a strawberry daiquiri. Place the strawberries and plenty of ice in a blender. Add white rum to taste but probably about 350ml (1/2 a bottle). Blend for about 10 seconds.
Serve in chilled glasses.

The Count's Favourite - Bloody Mary
250ml vodka
500ml chilled tomato juice
a generous squeeze of lemon
dash of Tabasco
dash of Worcester sauce
Make in a large jug. It is traditional to stir with a celery stick.
After pouring into individual glasses sprinkle celery salt on the top to serve.

These last 2 are Jamie Oliver recipes and we think they make great Halloween drinks with a difference.

Salem Slurper - Rhubarb Bellini
300g rhubarb -trimmed and finely sliced
75g sugar
1 bottle (very chilled) prosecco or champagne if you are feeling flush
Place the rhubarb and sugar in a small pan with a couple of tablespoons of water. Simmer, stirring occasionally until you have a nice thick compote. Use a blender to liquidiize to a nice runny consistency and leave to cool.
Stir it up and sloop a big dollop in your glasses. Add the chilled prosecco stirring to mix in the rhubarb.

Day of The Dead - Pomegranate Crunch
1 bottle of tequila
3 or 4 pomegranates
Put a bottle of tequila in the freezer for an hour before your party.
Scrape the seeds from the inside of your pomegranates and use them to part fill shot glasses. Add the iced tequila.
As you drink crunch the seeds for an amazing burst of burst of flavour.



---
Do you know any great Halloween drinks?
Either alcoholic or pure as the driven snow.
Send them in to us and we will add them to these pages.
---
To leave Halloween Drinks and return to
The Better Party Ideas Home Page please click here
Toddler Party Ideas l Kids Party Ideas l Teen Party Ideas l Adult Birthday Party Ideas
Holiday Party Ideas l Halloween Party Ideas l Slumber Party Ideas l Party Ideas Blog l