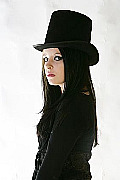 Halloween Party Ideas
For Teenagers
Halloween party ideas for teenagers
How to keep your cool whilst being a ghoul!
By the time they reach their teens most young people will feel that they have outgrown trick or treating. But Halloween still offers the perfect opportunity to dress up (or down) and party.



As with all teen parties however parents have to realize that actually the last thing young people want is for too much adult intervention and lots of kooky Halloween activities cramping their style.
Really the best thing is to provide a good venue where they can just hang out, eat food and play music together. Awful as it is for parents, often all teens really want is to put a bit of space between themselves and their folks. - especially if all the pizza is on their side of the dividing line!
Halloween party venues might be in a hall or at your house. Despite the cold it might also be possible to arrange a spooky outdoor event perhaps around a bonfire / barbecue.
Halloween Party Ideas For Teenagers - Decorations
All the usual Halloween bits and pieces. The puking pumpkin seems to be a particular favourite of teenagers.
Changing lightbulbs to coloured ones for the evening is a quick way to create a spooky and intimate atmosphere.
Fairy lights too can add a neat effect in a darkened room or outside especially if combined with other decorations.
Orange and black candles can also add an eerie glow.
Halloween Party Ideas For Teenagers - Activities
As mentioned above most self respecting teenagers will just want to hang out. Below however are some teen Halloween party ideas that might just be fun enough to try:

Make Your Own Horror Movie
Watching a scary movie is a popular activity for Teenage Halloween Parties. But what about making your own!.
These days simple point and shoot film recorders and even many mobile phones can turn anyone into Quentin Tarantino.
Have some ideas in advance or a rough plot line. There are plenty of scary themes from the horror genre you can follow.
Supply a few good props (you can usually incorporate some of your Halloween decorations). Hopefully your guests will come wearing their own costumes. Film your masterpiece. Maybe a quick edit and perhaps add a suitable musical soundtrack. Then enjoy playing it back.
A "Vampire Oscar" awarded to the most ghoulish performance perhaps!

The Dance Of The Pumpkin Heads
This sounds a bit childish but if everyone joins in is actually good fun and one of the best Halloween party ideas for teenagers you will get. In advance cut out pumpkin head shapes from orange craft paper. Cut out eyes and mouths etc. Either add a head-sized card band at the top of the pumpkin. This allows the pumpkin to be worn as a simple mask. Distribute to your group and select a scary rock number for The Dance of the Pumpkin Heads.
We promise 20 odd Pumpkin Heads dancing up and down to Michael Jackson's Thriller is very funny. Don't forget to film it.
Alternatively a small group could get together in advance and suddenly appear with their Pumpkin Heads for a little routine to impress their friends!

From Cool To Ghoul
This is a fun Halloween activity for teen parties. The girls choose a few of the boys, sit them on chairs in the middle of the room and get busy with the face paint and hair gel.
Nothing more to it than that. Enjoy creating the scariest face at the party.

And for individuals:
Fake It
Buy some fake blood capsules at a joke store or online party shop. Choose an appropriate moment and tuck in to someones neck.
You could actually plan something suitably shocking in advance with a mate.



---
To leave Halloween Party Ideas For Teenagers and return to
The Better Party Ideas Home Page please click here
Toddler Party Ideas l Kids Party Ideas l Teen Party Ideas l Adult Birthday Party Ideas
Holiday Party Ideas l Halloween Party Ideas l Slumber Party Ideas l Party Ideas Blog l