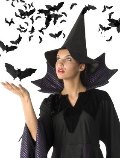 Adult Halloween Party Ideas
All the best adult Halloween party ideas
Spooky fun and grown up ghoulishness!

Halloween should not be a time just for the youngsters to dress up and go Trick or Treating. Everyone likes to party and Halloween is a great excuse for adults to enjoy some ghoulish fun too!



Last Resting Place / Final Destination
The simplest way to have some Halloween fun is to make your house the final destination for Trick or Treaters. Invite their parents round for drinks and nibbles whilst the kids go out together. Have some nice snacks ready for the kids when they return.

Spooky Dinner Party
Invite your friends round for a Halloween Supper.
Serve your guests dressed as characters from The Adams Family. Decorate your table with all the usual Halloween trimmings.
You could have spoof menu cards designed like tombstones.
Suggested dishes:
Starters
Roasted Pumpkin Seeds
BAT Canapes (Bacon, Avacado, Tomato)
Vampire Pottage (Creamy red pepper or tomato soup)
Pumpkin Soup (Served in small hollowed out pumpkins)
Mains
Ghoulash
Tombstone Pie (include a pastry headstone and RIP on the crust)
Dracula's Finest ( a steak cooked very rare and bloody)
Deserts
I Scream! (ice cream with raspberry ripple sauce)
Spiders Web (cheese cake or tart with web pattern on top)
The Ghost of Rock Stars Past Party
This makes a great novel theme for a Halloween Party. Get your guests to dress up as their favourite dead rock stars. For instance:
Elvis Presley
Bob Marley
Bill Haley
Billie Holiday
Johnny Cash
Marvin Gaye
Joe Strummer
Jim Morrison
Kurt Cobain
Cocktails From The Crypt
Invite your friends to a cocktail party with a difference. Get them to devise and name a great spooky cocktail recipe for others to try. Arrange in advance what ingredients will be available - to share expenses you may like to ask each guest or couple to bring a particular bottle.

You could have a themed voting system as each drink is tried. Perhaps holding up tombstone shaped scorecards or a 1 to 5 bat rating etc.
Top Tip - Go easy !!
There is nothing worse than a "Sozzled Spectre" or a "Wasted Witch"!

The Future is Written
Hire An Astrologer / Tarot Reader. This can make an interesting addition to an adult Halloween party. In turn let your guests learn what the future holds.
A fun variation on this is to spoof it. You could give an alleged fortune teller all sorts of information about your guests in advance. How amazed they will be as the psychic stranger appears to know everything about them even that embarrassing dalliance with the car mechanic / cheerleader etc!
Alternatively you could dress yourself up as a fortune teller and pretend to read palms, cards or a crystal ball but following a pre-prepared amusing script.

Black Magic
This is another one of those adult Halloween party ideas that can make a dinner party or larger gathering even more special. You can find good table magicians operating in most large towns. Hire them to perform some Halloween themed tricks at your event.



---
Do you know any good Adult Halloween Party Ideas?
Send them in to us and we will include them on these pages.
---
To leave Adult Halloween Party Ideas and return to
The Better Party Ideas Home Page please click here
Toddler Party Ideas l Kids Party Ideas l Teen Party Ideas l Adult Birthday Party Ideas
Holiday Party Ideas l Halloween Party Ideas l Slumber Party Ideas l Party Ideas Blog l