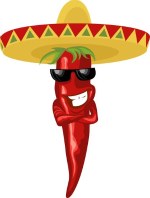 Cinco de Mayo Food Ideas
May your Tacos be Tasty. Your Burritos be Brilliant
Your Enchiladas Enchanting. And your Chillies Hot Hot Hot!




Mexico is a colourful, exuberant nation and its food reflects that. Here are some wonderfully tasty Cinco de Mayo food ideas that will make great additions to your party.
Every Mexican household will have its own Cinco de Mayo food ideas and recipes that it would consider an essential part of the celebrations.
But there are some very tasty staples of Mexican cooking however that no celebration of all things Mexican should be without.
Sensational Sweetcorn
The native peoples of Mexico regarded corn as a gift from the gods. Modern day Mexico follows the tradition. Sweetcorn is a popular street snack. Other types of corn are ground and used to make 'masa harina' the flour from which corn tortillas and many other Mexican treats are made. Inevitably then Cinco de Mayo food should always include some corny treats.


Roasted Corn On The Cob
As in many countries, corn on the cob is a popular street food in Mexico.
Simply pop whole cobs in the oven or wrap in foil and cook on a barbecue until tender. The traditional way to eat these is dipped in cream and then sprinkled with cheese. A perfect, if cholesterol laden, Cinco de Mayo food idea!
If you prefer you can also scrape the kernels from the cobs par boil them for five minutes and then cook in the oven in a dish of cream, chillies (pickled jalapenos are popular) and cheese.
Corn Soup
Quick and easy to prepare this creamy soup's sweet flavour is a hit with everyone.
2 Red peppers
1 Medium onion (finely chopped)
500g Sweetcorn kernels (thawed if frozen)
750ml Chicken stock
150ml Single cream
Dry fry the peppers in a griddle or over a flame until the skins are blistered. Place them immediately in a sealed plastic bag and set aside for 20 mins. The skins should now come off easily.
Cut the skinned peppers in half and remove the cores and the seeds. Cut into 1 cm dice. Tip - you can buy ready roasted and skinned peppers in jars if your prefer.
Heat some vegetable oil in a saucepan and very gently fry the onion until it is translucent and soft. Add the pepper and sweetcorn and fry for a further 5 minutes.
Place the fried ingredients in a food processor with the chicken stock or add the stock to your pan and blend to make a rich broth. A few chunks left add a nice home-made texture.
Heat the soup gently and stir in the cream with salt and pepper to your taste.
Serve in bowls possibly decorated with very finely sliced slivers of red pepper. Too good to serve just as a Cinco de Mayo food this makes a great treat all year round.
Popcorn with Lime and Chilli
This Mexican twist on popcorn is brilliant. One of those Cinco de Mayo food ideas too good to save for the 5th of May!
Make your fresh popcorn as normal. When the corn has finished popping sprinkle on 1- 2 teaspoons of chill powder. Shake the pan very rigourously to ensure the hot powder is distributed evenly. Tip the popcorn into a large bowl but try to keep warm. Add the juice of 2 limes just before serving. "Poptastic!"
Everybody Salsa
Guacamole
This is one of the best loved Mexican Salsas and now popular the world over. So much better the Mexican way however with chillies and lime to give it a good kick!
4 Medium tomatoes
4 Ripe avocados
Juice of 1 lime
1 / 2 Small onion
2 Cloves of garlic
3 Fresh chillies (fresno are traditional)
Small bunch of fresh coriander (cilantro)
Cut a cross in the base of each tomato and place in a bowl of boiling water for 5 mins to loosen the skins before removing them. Cut the skinned tomatoes in half and scoop out the seeds. Chop the remaining flesh roughly.
Cut the avocados in half and scoop out the flesh. Use a food processor or blender to whizz smooth. Add the lime juice.
Chop the tomato flesh, onion and garlic as finely as possible and mix in with the avocado. Mixing rather than blending these in the processor gives your guacamole a nice home-made slightly chunky texture.
Slit the chillies open and remove seeds. Chop finely and mix in gently along with the chopped coriander.
Serve as a dip with tortilla chips and vegetable crudites. Its also very nice with sweet potato wedges. Alternatively spread a nice
gloopy
layer inside tacos and soft wheat tortillas and wraps as a base for your favourite filling.
Mango Salsa
The bright colours and fresh fruity tang of this delicious salsa mean its a guaranteed hit with young and old.
2 Fresh chillies
2 Ripe mangoes
1/2 Small onion
Grated zest and juice of 1 lime
Small bunch of fresh coriander (cilantro)
Cut the flesh from the mango into small dice.
Spear the chillies on a skewer and roast slightly over a flame. Place them in a sealed plastic bag to loosen their skins. remove the skins and stalks then slit the chillies and remove the seeds (unless you like things hot!).
Chop the onion very finely and add along with the chopped coriander to the mango.
Mix well and leave for at least an hour in the fridge before serving
Serve with tortillas and vegetable crudites.
Mexican Rice
This is a delicious tomatoey dish that makes a great accompaniment to all sorts of Cinco de Mayo food, Mexican party dishes and barbecues.
200g long grain rice
Small can of chopped tomatoes in juice
1/ 2 Onion (roughly chopped)
2 Garlic cloves (roughly chopped)
450ml Chicken stock
2 Fresh chillies (finely sliced)
150g Frozen peas
Put the rice in a bowl and cover with boiling water. Stir and then leave to stand for 10 minutes. Drain and rinse under cold water. Set aside to dry out a little.
Meanwhile blend (food processor or blender) the tomatoes and their juice along with the onion and garlic until smooth.
Heat about 2 tablespoons of vegetable oil in a large pan. Add the rice and cook carefully, stirring when needed, over a very moderate heat until it becomes a nice golden brown colour. Try not to stir too much or the rice starts breaking down and going starchy.
Add the tomato mixture and continue cooking carefully until all the liquid has been absorbed.
Stir in the chillies and peas and season with salt and pepper to taste. Cook for a further 5 minutes.
Quesadillas
These are a perfect Cinco de Mayo food idea, the ultimate Mexican party snack. But they need to be eaten shortly after being cooked, so have your ingredients ready to go and serve your guests straight from the pan.
200g Melting cheese - Monteray Jack, English Cheddar, Mozzarella grated or cut into very small pieces.
Either 10 spring onions (very finely chopped) or one white onion chopped and lightly fried for about five minutes
8 Wheat flour tortillas
1 Fresh chilli finely chopped (slice longways and remove the seeds if you were born to be mild not wild)
Warm a frying or griddle pan
Place a tortilla in the pan
Place a light mix of the other ingredients on one half only
Fold the tortilla and press down particularly around the edges.
Cook for about 1 minute each side
Remove from the plan and slice into 3 triangles.
Serve immediately while still warm. They are great with a good slathering of guacamole. If you want you can add other fillings to the mix such as cooked prawns, cooked and shredded chicken or pork, ham or thinly sliced chorizo.
Spiced Pumpkin
Roast pumpkin makes a great party snack served warm with a spicy salsa. Cinco de Mayo food like this is simple but can be very tasty.
Most pumpkins and butternut squash will roast well. Scrub the skins well cut into wedges or slices and place on a baking tray.
Make a spice mix of 2 dried chillies, 1 tbsp fennel seeds, 1 tsp dried marjoram, 1tbsp cumin seeds 1 tsp black pepper. You may prefer other flavour combinations all-spice and cinnamon are both traditional and give a unique taste. Grind in a pestle and mortar and add a good splash of olive oil. Pour the spice mix over the pumpkins and move about to rub in. Roast for about 25 minutes or until the flesh is cooked. Serve warm with a salsa dip.

Spiced Plantain Chips
Plantains are popular all over Latin America where they are eaten in all sorts of ways. They can be combined with all sorts of Cinco de Mayo food ideas aand Mexican recipes . If you've never eaten plantains before look for darker skinned ones. A dark skin is a sign of ripeness. Unlike bananas to which they are related plantains should always be cooked before eating.
Take 2 ripe plantains remove the skins and chop off the ends. Slice diagonally to give larger, slightly fatter slices. Heat 1cm of vegetable oil in a frying pan. When very hot (test by adding one plantain slice; it should float as the oil bubbles around it) shallow fry the plantain slices in small batches (to avoid sudden drops in the oil temperature). When the chips are golden brown remove with a slotted spoon and drain on kitchen paper. Mix 1/2 a teaspoon of chilli powder with 1 teaspoon of cinnamon powder and give the cooked chips a light dusting. Serve whilst still warm perhaps with a chilli dipping sauce.
---
Do you know any great Cinco de Mayo food ideas or Mexican party recipes that you think we should include?
Send them in to us and we will add them to this page.
---
---
To leave Cinco de Mayo Food Ideas and return to
The Better Party Ideas Home Page please click here
Toddler Party Ideas l Kids Party Ideas l Teen Party Ideas l Adult Birthday Party Ideas
Holiday Party Ideas l Halloween Party Ideas l Slumber Party Ideas l Party Ideas Blog l