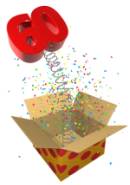 Gift Ideas
For 60th Birthday
All the best gift ideas for 60th birthday celebrations.
Guaranteed to bring a smile
To the Birthday Boy or Girls face!

As people get older their need for "things" generally diminishes.
That's not to say they won't still appreciate a nice warm sweater or a lovely embroidered scarf. But they begin to judge their gifts in a more reflective way.



This is never more so than on significant birthdays like a 60th.
Putting a bit of thought into your choice of gift for a loved one celebrating this milestone is therefore extra important.
It really isn't what you spend. Its coming up with something novel, something that will put a smile on their face and make them laugh with delight.
If they are grandparents anything that comes from the grandkids is always gonna be extra special and one of those occasions for special family fun.
So its time to put on your thinking cap and be creative.
Your gift idea doesn't have to be complicated.
Sometimes it is as simple as giving your gift an amusing name. Its all about giving it a little twist - Just like grandma used to do back in the sixties!!
So here are some neat gift ideas for 60th birthday celebrations to get your thinking started:

Chill Out Grandad!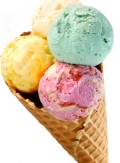 Give a selection of lovely individual ice creams for the freezer. All the old favourites perfect for a sunny day in their deckchair.
Or how about a "Chill out Grandma!" trip to the local ice cream parlour with all the grandchildren. Watch granny tuck in to the 4 scoop special with fudge, nuts and extra chocolate cream!

Grandma You Are A Star...........No Really You Are!
There are a number of companies that offer the unusual gift of having a star named after you. With millions of stars up there are plenty to choose from.
The Birthday person's name is officially registered and you usually get a certificate and various other bits and pieces. You may also choose to name your star after their house, or the place they first met their partner etc etc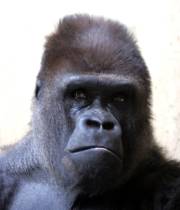 Give Granny A Gorilla!
Well maybe not literally ......they don't make great house-guests!
But most zoos and safari parks offer neat adopt an animal schemes. With most of them you get photos of your animal, zoo passes and regular updates on their progress.
At some zoos you can even have a person's name on a plaque by the animals compound. There are all sorts of animals you could choose. Have fun picking something appropriate for your special senior
How about :
Giant Tortoise - Something even older than you Grandad!
Elephant - Don't mention the wrinkles!
Monkey - For someone whose never tired of monkeying around!
Camel -Don't get the hump with this gift will you Grandad!
Wombat -Sorry Grandma it just reminded us of you!
And don't forget later in the year you could arrange a great family outing to see Granny's Gorilla.

Trip To The TV Studio
Does your Birthday person have a favourite TV show? Could you arrange for them to be part of the studio audience?
Many day time shows and quizzes in particular are often after audience members and its reasonably easy to get free tickets. Simply Google the name of the show and audience or tickets to see what is available.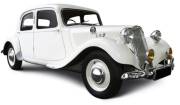 Your Carriage Awaits
Treat them to a trip out in a limo.
They could cruise around the local area just waving and being swanky. Or you could maybe take them on a trip down memory lane around their old neighbourhood or the place they grew up.

Gifts For The Green Fingered
If your Birthday person is keen on gardening there are any number of gifts that would be suitable.
Gift ideas for 60th birthdays should however be that bit extra special.
Family apple trees are good fun - they have several different varieties of apple grafted on to one small tree.
Another option is to get busy with the gardening books or website and see if you can find a plant to give that shares a name with the Birthday girl or boy. All very well you say but not everyone is called Holly! True enough but very often specific varieties of plants are given other names to differentiate them and you can often find a match.
Or you good give them six plants - one for each decade. Chosen with care they could tell the story of their life from fresh young sapling to mature shrub!!

Glamourous Granny
Its not just the young who enjoy a bit of pampering. Why not book Granny a manicure, facial, body massage or go the whole hog and book her a day at a Health Spa - Note she may like to take a family member or friend too.
Gift ideas for 60th birthdays should always be really special. This is a really nice gift ......Why? Because She's Worth It!!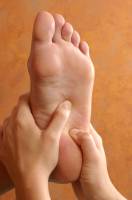 I Could Have Danced All Night!.....
But My Feet Are Killing Me!
Well this is one of those gift ideas for 60th birthdays that will really be appreciated by footsore seniors.
Older people love having their feet seen to but chiropody is quite expensive.
Give some chiropody vouchers or book a course of visits.


We Got You A Box Of Chocolates
..........But You Do Have To Make Them Yourself!
Is their a local chocolatier in your town. Many will offer a days course in the skills of chocolate making...... with of course some work to take home!
This is one of those gift ideas for 60th birthdays that is perfect as a gift from the grandchildren. They might even be able to help Granny or Grandad out if they need a tasting companion!

Cinema Special
Gift ideas for 60th birthdays don't need to be too expensive. Its more about the thought that goes into it.
When was the last time your Birthday person and their partner or friend went to the cinema. Find a good film and organise a night at the pictures for them.

What A Picture!
What a lovely way to mark a significant birthday than having some great pictures taken by a professional, either in a studio or at home. Shop around for a great local photographer and book your loved one some time.
---
Do you have any great Gift Ideas For 60th Birthday ?
Please tell us about them.
We will include all the best ideas on this page.


---

To leave Gift Ideas For 60th Birthday and return to
The Better Party Ideas Home Page please click here
Toddler Party Ideas l Kids Party Ideas l Teen Party Ideas l Adult Birthday Party Ideas
Holiday Party Ideas l Halloween Party Ideas l Slumber Party Ideas l Party Ideas Blog l