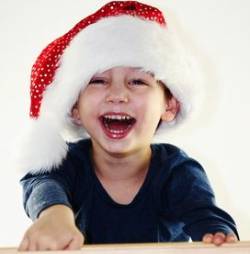 Kids Christmas Party Ideas
For Younger Children
Holding a Children's Christmas Party?
These Kids Christmas Party Ideas are Santa-tastic!


Kids of all ages love a good party at Christmas.
The Kids Christmas Party Ideas on this page are particularly suitable for slightly younger kids.



Kids Christmas Party Ideas - Invitations
There are all sorts of clever childrens' Christmas party invitations you can design and make. Home-made, if possible, is always best.
Classic Christmas Party Invites would probably include:
Snowmen
Rudolph
Santa's
Sleighs
Xmas Stockings
Snowflakes
Christmas party colours are RED and GREEN so do try to include them in your invitation design and text.
Involving your children in the fun of making invitations is a great way to put everyone in a lovely Christmassy mood. Depending on the age of your kids cut out blank templates for them to follow or colour in. If you are feeling "crafty" you could add, tissue paper, cotton wool, glitter etc
Tip : You can use address labels with all the party details, venue, date and times as a quick way of adding all the important info inside without writing it out each time.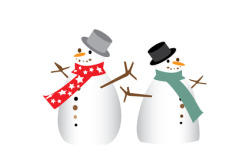 Kids Christmas Party Ideas - Decorations
It is likely that your home or venue will already be decorated with plenty of Christmassy bits and pieces. For a great Children's Christmas Party it is always worth adding to the effect however.
Once again this is an opportunity to squeeze extra juice out of the festive season and spend quality time with your kids.
Use construction paper and card to draw or make plenty of Rudolph's, Santas, snowmen and other suitably festive characters to adorn the walls.
Paper snowflakes can hang from the ceiling. Don't forget the Christmas tree This can be real or made of green card.
Nothing needs to be perfect - home-made rules!
Plenty of Christmas tinsel, streamers and balloons will finish off the venue beautifully.
Lollipop Tree - this can easily be made from a styrofoam cone (florists or craft supply stores) with lollies stuck in all over.
Kids Christmas Party Ideas - Games
Children's Christmas party games are easy to organise.
The trick is to keep things simple and fun.
Its actually really easy to give all your usual party favourites a Christmas twist.

Kids Christmas Party Ideas - Christmas Corners
~Choose a corner to win a prize~
This involves a little bit of preparation but is a nice simple game that kids really like.
What you need:
2 copies of 4 different Christmas pictures. Downloaded and printed up.
A4 size is fine as long as the pictures are nice big and clear.
Suitable pictures would be:
Santa
Snowman
Rudolph
Christmas Pudding
Christmas Stocking
Christmas Tree
Candy Canes
Christmas Presents
You may like to print your pictures onto card or stick onto cardboard cut the same size. Or you could laminate paper pictures.
One copy of each picture is put in the four corners of the room. If you have a lot of children and the venue is large enough you may like to add 2 extra pictures positioned on the wall at a mid point. You may sticky-tape or pin the pictures to the wall or floor or to the back of appropriately positioned chairs.
The music starts and the children dance in the middle. When the music stops however all the children must choose a corner and run to it. You then take the other pictures turned so they are face down and select a picture without looking at it. Hold it up. Whoever is standing in the matching corner wins a sweet. Then everyone back in the middle and start again. Play as many times as you like.
The trick with this game is to keep it moving a long quite quickly. Use other people around the room to pick the winning cards and give any winners a big cheer each time etc.

Kids Christmas Party Ideas - Santa Says
~Pay attention to Santa and you could win a prize!~
This is really just a Christmas version of Simon Says. You do need to go for it however. -Yes Mum / Dad that means you! The Santa should definitely be wearing a Santa hat and a beard is even more fun.
Santa stands facing the children who stand facing him. He then gives a series of commands each one beginning with "Santa Says". So it would be for instance Santa Says touch your ear. Santa Says stand on one foot. Everyone must perform Santa's commands which should get faster and faster until he calls a command which does not begin Santa Says which no-one should do. Inevitably however a couple of numpties will perform the action.
After a couple of practice tries anyone who gets it wrong is out and should sit down. Santa continues with those remaining until eventually you arrive at a winner (or winners if Santa can't catch the last few out).

Kids Christmas Party Ideas - Pin The Nose
~Pop the hooter in the right place!~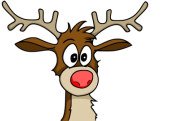 This is a simple version of pin the tail on the donkey adapted for a Christmas party.What you need:
A large picture of a Christmas Character
Some appropriate noses - Stickers are always best.
A scarf blindfold
Every child is given a nose sticker to which their initials are added.
In turn they are blindfold and have to place their sticker where they think it should go on the picture. Closest to the right spot wins.
Blindfolds - Some younger kids will not allow themselves to be blindfold. They can have Mum or Dad put their hands over their eyes.
Good Pin The Nose candidates are:
Santa -sticker - red nose
Rudolph - sticker - red nose
Snowman - sticker blanks (address labels) but get the kids to draw a carrot on their sticker
Tip - It is usually easier to have the main picture attached to a board that you can move around than on the wall at kid height.

Kids Christmas Party Ideas - Hunt The Baubles
~Sharp eyes are needed to find the Christmas treasure~
There are a few ways you can work this one:
1. In advance hide small plastic baubles or other small Christmas decorations around your venue. These could also be small card pictures. Divide the children into teams and send them off hunting. The team that finds the most wins.
2. Similar to an easter egg hunt but with a Christmas twist. Hide sweets or foil covered chocolate coins around the venue for the children to find.
3. Hide just one specific small Christmas object. The children all hunt at the same time but the one who finds the object wins a prize.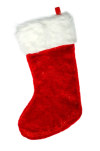 4. Christmas Nuts. Hide nuts around the venue divide your kids into two teams and give everyone a teaspoon. Each team has a base where a Christmas stocking is hanging. The hunt begins and anyone who finds a nut must carry it carefully back to base using just their spoon and pop it in their team's stocking. After a few minutes (judge this as the game unfolds) call time and count the nuts in each stocking to find the winning team.


Kids Christmas Party Ideas - Decorate A Christmas Party Cookie
~Cookie-tastic and Tasty!~
In advance prepare a blank cookie for every guest. These should be in the shape of:
Santas
Snowmen
Christmas Trees
Stars
Christmas Stockings
or anything else suitably festive.
Have each cookie on a paper plate.
Provide plenty of quick drying icing and other decorations, sweets and baubles.
Then stand back and let the young "icing masters" design their works of artistic genius!

Kids Christmas Party Ideas - Sleigh Race (Young Kids Version)
~Dashing through the snow…..!~
This is pretty much as you might expect. You need a slightly larger venue with a non carpet floor.
First you need to make some sleighs. You could of course use the real thing if you had a couple. If not old tea trays, large plastic or wooden storage boxes, bread or fruit crates or anything similar can be adapted. Anything big enough for one child to ride on or in.
Attach a rope to the front of each sleigh. This should be as long as the course.
Divide the children into teams.
All team members must stand behind the start line. The first child jumps on the sleigh.
An adult helper then pulls them carefully to the other end of the room. When they cross a certain line they jump off, grab a candy cane from a bucket and sit to the side. An adult helper takes the sleigh and runs it back for the next child (possible good job for an older sibling).
Then the next team member goes etc
Run the race as a relay until all team members have a candy cane.
Winners are the first team to complete the course.


---
To leave Kids Christmas Party Ideas and return to
The Better Party Ideas home page please click here
Toddler Party Ideas l Kids Party Ideas l Teen Party Ideas l Adult Birthday Party Ideas
Holiday Party Ideas l Halloween Party Ideas l Slumber Party Ideas l Party Ideas Blog l