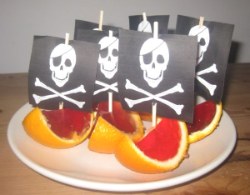 Pirate Party Food
All the pirate party food ideas you need
To feed a crew of hungry young swashbucklers!


Spending all your time plundering the Spanish Main makes young pirates very hungry.
These bloodthirsty buccaneers like a nice party spread. Don't worry many of your traditional party favourites can easily be given a pirate twist.
Below however are some special pirate party food ideas guaranteed to ensure that Mum or Dad don't end up having to "Walk the plank!"

Potato Wedge Pirate Ships
Potato wedges are always popular at kids parties. Simply bake quartered potatoes in the oven for about 45 mins (or sweet potatoes for about 30mins). Turn them into perfect pirate party food with some Jolly Roger sails. Serve with "Cut-Throat Ketchup!"
Ships Rats
These are an alternative idea to the one above. Select small potatoes, halve and bake them. When cooked turn over so the flat side is downwards. Turn them into ships rats with dry spaghetti whiskers and cooked spaghetti tails. Sultanas stuck on with cocktail sticks make great eyes.

Cannons
Pirate party food should be big and meaty. You can make great pirate cannons by cooking large sausages. Add wheels made of carrot slices or cheese rounds.
Cannon balls
Every pirate needs a good supply of cannon balls. Pretty much any round food will do. This might be savoury such as round meat balls (sausage-meat or beef mince) or falafels.
Alternatively look out for round sweets such as Malteesers or ball shaped biscuits.


Cut-Throat Cupcakes

SHHHH!....Don't tell the pirates they are actually eating fairy cakes or you might have a mutiny on your hands. With the right decorations though they make perfect pirate party food.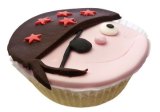 125g Caster sugar
125g Softened butter
125g Self raising flour
1tsp baking powder
2 Large eggs
2-3 drops Vanilla essence
Packs of ready icing (different colours)
Put all the cake ingredients in a bowl and mix until smooth. You may like to use an electric mixer or food processor
Spoon the mixture into paper cake cases in a bun tin
Bake at 190C for about 15 minutes or until they are golden brown
Place on a wire mesh to cool before adding the icing
Having made your cupcakes get creative with the ready icing to make an entire ships crew. Add sprinkles, licquorice and small sweets to make your crew's faces.

Pirate Face Biscuits
This is similar to the cakes above but using biscuits and make-up yourself glace icing.
250g Icing sugar
1 pack Large plain round biscuits - home-made or shop-bought
Yellow food colouring
Small jelly sweets
Chocolate sprinkles
Thin licquorice strips (for moustaches and scars)
Make the pirate faces by mixing a few drops of food colouring with the icing made up to the packet instructions. Add hair, eyes, scars and patches to make up a fearsome pirate crew.

Jelly Pirate Ships
These are a piratical variation on the jolly jelly boats which are always popular with children. You can see some at the top of the page.
You need some larges oranges. Scrub them and cut each in half. Scrape and squeeze out the inside taking care not to pierce the skin. Make up any dark fruit flavoured jelly according to the packet instructions. 1 packet of jelly mixture to about 3 oranges is usually about right and that will make 12 ships.
Place the orange skins on a baking sheet or in muffin tins to support them and fill right to the top with the melted jelly mixture. Refrigerate until they have set.
Once they are set cut the oranges into 1/4 wedges using a sharp wet knife. Attach a paper pirate flag sail to each boat with a cocktail stick.

Pirate Birthday Cakes

If your pirate party is for some young Buccaneer"s Birthday then a cake is needed.
These can be quite elaborate in the shape of galleons etc.
Fortunately pirate faces and the skull and crossbones pirate flag lend themselves well to more simple affairs.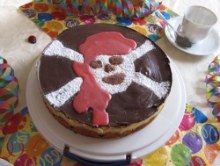 Pirate Party Drinks - Better Known As Grog!

All that swashbuckling is thirsty work. Every pirate likes a drink. If you want you can stick with simple squash, juices cordials or fizzy drinks. Simply give them pirate names:


Blackbeard's Brew
Cut-Throat Cola
2 Pistols Punch
Dead Man Reviver
Parrot Punch
Peg-Leg Potion
Ok not quite "Yo Ho Ho and a bottle of rum!" but below are some tasty and refreshing cocktails perfect for parched pirates.

Treasure Island Temptation

In a large bowl combine 850ml unsweetened pineapple juice with 700ml apple (orange or mango) juice and a 450g can of unsweetened crushed pineapple. Place in fridge for at least an hour. Just before serving add 750ml of cold lemonade or ginger ale.
Foaming Seas

Pour cola into a large glass. Add a scoop of ice cream. You may like to do this at the party table. Stir slightly and the drink will foam (Warning over stirring will result in a Tsunami).
Swashbuckle Slush Puppy
You need to get your timings right for this one (and you might like to have a practice the day before) but its a great drink for hot and thirsty pirates.
In advance make up your favourite squash, cordial or slightly water down a fruit juice and add 2 tsp of caster sugar and a tsp of lemon juice. Place in a freezable container and pop in the freezer for about an hour. Remove and stir to break up the ice crystals that have started to form. Pop back in for a further 2 hours. Check it and stir it from time to time. Pour a nice beaker of slush when slushy enough to serve.
---
To go to our main Pirate Party Ideas page please click here
Pirate Party Ideas
Do you know any great ideas or recipes for Pirate Party Food?
Send them in to us. We will include all the good ideas on this page.
---
---
To leave Pirate Party Food and return to
The Better Party Ideas Home Page please click here
Toddler Party Ideas l Kids Party Ideas l Teen Party Ideas l Adult Birthday Party Ideas
Holiday Party Ideas l Halloween Party Ideas l Slumber Party Ideas l Party Ideas Blog l