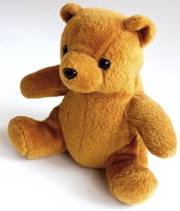 Teddy Bears Picnic
Party Ideas
What could be more fun than
A Teddy Bears Picnic Party?

People are always looking for good, fun ideas for toddler parties. Something that everyone will understand but still having lots of potential to make things special




A Teddy Bears Picnic Party is probably one of the easiest toddler party ideas you can do. All kids love their Teddies and there are lots of cute variations you can work around the main theme.
The picnic can take place indoors in someone's house, in a village hall or outside in a garden or park, if the weather can be counted on.
Teddy Bear Invitations
Teddy bear shaped invites are easy to do. A bit of fake fur (even if its only on the ears) adds to the appeal.
Address the Teddy Bear Invitations to each child personally.
Don't forget to remind them to all bring along their cuddliest Teddy.
Teddy Bears Picnic Party Decorations
Any bear pictures are great; paint draw or download from the internet. Put them up all over. You want lots of happy smiling bears.
A few spare Teddies around the place are nice too.
Rugs on the floor and checked table-clothes give a lovely picnic feel.
On arrival make sure that you give each child a little name sticker and of course one for their bear! Tip - Most Address Label programs will allow you to insert a small picture. So you can have a little bear on your stickers too.
Get everyone sitting round on rugs with their bears.
Younger children will probably want to sit on parent's laps.
Teddy Bear Activities
Sing Along With Ted
As with all toddler parties or parties for younger children simple singing, rhyming and clapping games are the order of the day.
And don't forget simple nursery rhymes too.
Try to get the children to use their bears to do the actions of their favourite songs and rhymes.
There are classics like-
Round and Round the garden like a Teddy Bear
One step, two step.
And tickle him under there!
But you can also change the words of other rhymes to fit the Teddy Bear theme.
Ring a ring o' rosies becomes-
A group of tired old Teddies
Are ready for their Beddies
One two, one two
They all lie down
.....Snore snore!

(whose Teddy snores the loudest?)
Teddy actions to also work well to Here we go Round The Mulberry Bush
Teddy goes round the Mulberry Bush
The Mulberry Bush, The Mulberry Bush
Teddy goes round the Mulberry Bush
First thing in the morning.
Other verses:
This is the way he jumps up high
This is the way he goes head over heels
This is the way we give him a kiss
This is the way he waves goodbye
Young children will love to use their bears to act out the songs and rhymes.

Teddy On A Stick
Prepare some Teddy Bear shapes cut out of card.
Get the party guests to use felt tips and crayons to colour them in and stick eyes and fur etc on to them. (You can buy great goggly eyes that wobble about at craft stores)
When ready attach them to craft straws or lolly sticks for the kids to take home

Make A Teddy Mask
Have the Teddy masks ready cut and stringed. But get the children to add their own designs.
Some younger children do not like full face masks so you may like to do a variation involving Teddy bears ears only.
Or headbands with cut out Teds stuck to them.



Pass The Teddy
Time for the children to put down their own teddies now.
Everyone sits round in a circle and instead of pass the parcel - pass the (special) Teddy.
When the music or singing (if you are outside) stops, whoever is holding the teddy wins a small prize.
Make sure every child gets a prize.

Toss the Teddy
Use a play parachute if you have one. If not use a sheet or blanket. Everyone holds the edge of the chute. (You need to have plenty of adults helping).
Put everyone's teddy on and toss them up into the air.
Whose Teddy is going the highest?

Teddy Bears Picnic Party Food
Simple sandwiches are best but you can easily cut them into interesting Teddy shapes with pastry cutters?
Toddlers and young children prefer simple finger food - cocktail sausages, grapes, cherry tomatoes etc.
Little iced sponge cakes with pictures of bears on them or teddy shaped biscuits make for a perfect picnic feast.
Don't forget a few little treats for the grown ups too.
To drink- check with the parents but squash or water is usually fine. You can always call it: Teddy Tea, Teddy Juice, Brown Bear Brew or something similar.

Teddy Hokey Cokey

This is a great way to bring your Teddy Bears Picnic to an end.
Doing the Hokey Cokey is always a winner at parties and its easy to give it a Teddy Bears Picnic Party twist!
Get all your guests and their Mums standing in a circle with their bears.
Then off you go. Use your Teddies to do the actions and have some fun.
You put your Teddy Bear in
You put your Teddy Bear out.
In out
In out
And shake it all about
You do the Teddy Hokey Cokey and you turn around
Thats what its all about!


Oh Teddy Hokey Cokey

(here you all run into the centre and back again)
Oh Teddy Hokey Cokey
Oh Teddy Hokey Cokey
Bears up - Bears down
Rah, Rah, Rah
---
Have a great
Teddy Bears Picnic Party
---

To leave Teddy Bears Picnic Party Ideas and return to
The Better Party Ideas Home Page please click here
Toddler Party Ideas l Kids Party Ideas l Teen Party Ideas l Adult Birthday Party Ideas
Holiday Party Ideas l Halloween Party Ideas l Slumber Party Ideas l Party Ideas Blog l