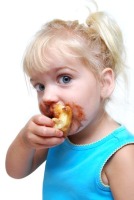 Toddler Party Food
Tasty Toddler Party Food
Yummy treats for junior party people!

Keep the food very simple for toddlers parties. This makes it easy for them and easy for you.



At a party very young children might not want to eat much as they will be busy playing. It is however best to have a set time when everyone sits down to eat together. This can be around a table but is just as easy if everyone sits on the floor (including parents and helpers).
It is best however to try to stop children from wandering around with food. This might mean just putting some toys away to avoid temptation while the party tea is out.
Please relax it is not your job to provide nutritious super food for your child and their pals so don't get too hung up on what other parents might think. Keep things simple with your toddler party food and don't go overboard with variety or quantities.
The other thing is to keep things toddler size. So cut and chop to make bite-sized snacks and treats.
Young kids in particular like the familiar so stick with a few sensible choices, raw carrots and breadsticks with a dip such as humous, grapes (cut these in half), cocktail sausages, potato crisps / chips, some simple sandwiches and a couple of choices of fancy cake or biscuit. Have simple squash drinks on hand - You may however find that many kids come with their own beaker. You really do not need more than this.
You may also like to provide some food for the parents and children do enjoy seeing Mum or Dad tuck in too. If parents have hot drinks take extra care if there are kids running around.

Toddler Party Food Specials - Pinwheel Sandwiches
These are lots more fun than normal sandwiches
Medium sliced bread
75g Cream cheese
I tbsp Mayonaise
A stick of celery cut thin lengthways.
Beat the cream cheese with the mayonnaise
Cut the crusts off a slice of bread and roll a bit flatter with a rolling pin
Spread with the cream cheese / mayonnaise mix
Cut the celery the same length as the flattened slice
Place a thin stick of celery across the bread at one end of the slice
Roll up tightly pressing the edge down firmly
Wrap in cling-film and chill in the fridge
Remove the cling-film and slice (like a Swiss Roll)
Some alternative fillings:
Canned tuna mashed with a little mayonnaise
Egg mixed with a little mayonnaise
Meat paste
Jam
Cream cheese and Marmite
Toddler Party Food Specials - Sausage Hedgehogs
If you think normal sausages are too dull try to present them party style. Its time for the Sausage Hedgehog.
Cover a grapefruit or similar with brown paper or paint it. Add eyes and a mouth / tongue. Then stick in your sausage on sticks prickles.
A sausage hedgehog is even more fun if mum squeals "ouch" every time someone pulls one of the sausages off his back.

Toddler Party Food Specials - Funny Face Cakes
These cakes are always a "must-grab" item for toddler and just show that things do not need to be complicated.

Cakes
125g Self raising flour
125g Soft margarine
125g Caster sugar
2 Eggs
3 drops Vanilla esssence
20 Paper cake cases
Icing
250g Icing sugar
2-3 tbsps Warm water
Food colouring
Decoration
Hundreds and thousands / sugar strands
Jelly sweets
Small dolly mixture sweets
Chocolate buttons
Glace cherries
Place all the cake ingredients in a mixing bowl and beat together until smooth. You may use a food mixer or processor for this
Place the paper cases in a bun tin and divide the mixture between them
Place in a preheated oven at 180C for about 15 minutes until golden
Transfer the cakes in their cases to a wire rack and allow to cool
Mix the sifted icing sugar with just enough warm water to mix it in and provide a usable icing paste. If desired add a few drops of food colour.
Spread the tops of your cakes with icing
Decorate to make your funny faces
You may like to name each cake for particular guests etc

Toddler Party Food Specials - Butterfly Cakes
These cakes look great but are dead easy to make
Cakes
1 tbsp Milk
3 medium eggs
100g Caster sugar
115g Self raising flour
85g Melted butter
15 Paper cake cases
Cream Cheese Icing
150g Low-fat cream cheese
100g Icing sugar
Zest of one unwaxed lemon or orange plus 2 tbsps juice
Cake sprinkles to decorate
Whisk the milk, eggs and sugar in a bowl until doubled in bulk.
Add half the flour and half the butter and fold in until evenly distributed
Fold in the remaining flour and butter
Place the paper cake cases in a bun tin and spoon the mixture evenly between them. Fill them almost to the top
Bake in a pre-heated oven at 180C for about 10 minutes until risen and golden.
For the icing beat together the cream cheese, icing sugar, lemon zest and juice until smooth.
When the cakes are cool slice a small circle off the top of each one and cut each circle in half
Fill the hole left behind with a dollop of cream cheese icing.
Push the 2 halves of your circles into the icing to form "butterfly" wings
Decorate with sprinkles
Toddler Party Food Specials - Gingerbread Men
Run run as fast as you can! You can't catch me I'm the gingerbread man!
Do the children know the story of the gingerbread man? Perhaps you could incorporate it into your party tea and at the end offer around a plate of gingerbread men.
Even funnier when all the parents go "ooh" as the kids all take the first bite together.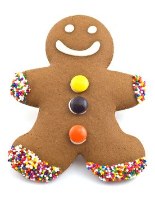 Makes about 12 gingerbread men:
250g Brown sugar
250g Soft butter
250g Treacle
1 Egg
625g Plain flour
1tsp Bicarbonate of soda
1tsp Cinnamon
3tsp Ground ginger
1/2 tsp Ground nutmeg
Mix the sugar and butter together in a large bowl.
Add the treacle and egg and beat until smooth
Sift all the dry ingredients in another bowl then gradually mix these into the treacle mix.
Mix well using a beater or food mixer until you have a firm dough.
Wrap in cling-film and chill in the fridge
Rolling out - Gingerbread dough is particularly sticky. You might prefer to work with small amounts at a time. Place about a quarter of the dough on a floured surface or a piece of kitchen foil. Place a piece of cling-film over the dough and roll with a rolling pin. The film should stop the dough sticking to your pin. Roll out to slightly less than 1cm thickness.
Use a cookie cutter (in the shape of a Gingerbread Man) to cut out as many men as you can manage.
Transfer to a baking sheet
Bake at 170C for 15 - 25 minutes until the gingerbread is firm to the touch and just starting to go dark around the edges.
Leave to cool before removing from the baking tray
Decorate with icing (which can also be used to stick on any extras)
---
Do you have any good toddler party food ideas?
Send them in to us and we will include them on this page.
---
---
To leave Toddler Party Food and return to
The Better Party Ideas Home Page please click here
Toddler Party Ideas l Kids Party Ideas l Teen Party Ideas l Adult Birthday Party Ideas
Holiday Party Ideas l Halloween Party Ideas l Slumber Party Ideasl Party Food Ideas l