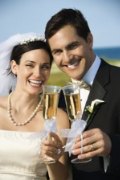 Wedding Toasts
Wonderful wedding toasts
The perfect way to celebrate hope and happiness


No wedding would ever be complete without a toast to the "Happy Couple" accompanied by a sip of champagne.



Toasts are also a perfect way to acknowledge and say thank you to those who are significant to the bride and groom or who have helped to make the wedding day extra special.
As well as celebrating the marriage good wedding toasts also provide both a natural break and a bit of structure in the proceedings. An expected and much looked forward to part of the day.
At formal elaborate events a good toast will help signal the end of a certain part of the day - usually the meal and the start of the next. At smaller more intimate events it helps acknowledge the seriousness of the commitment that has been made and allows people to mark their respect for that decision.
Different traditions exist in different countries about who should toast who. These days however many relationships do not follow common patterns and wedding parties will reflect this. The best thing is for those making speeches and wedding toasts to all plan together who will do what to ensure all the significant toasts are made, and in what order. This will also make sure that no-one important is left out.
The best wedding toasts are usually a combination of clarity, fun, love and respect. The first part can be very lighthearted but the final sentiment should always be heartfelt.
If you are making a wedding speech do try to do it properly. Take your time. Wait until you have everyone's attention. Speak clearly and allow enough time for people to take in what you are saying.
This is particularly important if you are trying to make a humorous remark or crack a joke. All good comedians will tell you that timing is everything.
Toasts usually, but not always, will come during or at the end of a speech. Below are a great selection of wedding toasts for you to adapt and use:

Best Man Wedding Toasts
Traditionally the best man ends his speech with a toast to the bridesmaids but also often the Happy Couple. Before that he may also toast the brides parents and any absent relatives or friends as he reads telegrams or messages from afar.
(A toast to the bridesmaids)

~We admire them for their beauty, respect them for their intelligence, adore them for their virtues, and love them because we can't help it.~

~It gives me tremendous pleasure to propose a toast to the bride and groom. My best friend / brother has found the girl of his dreams and I really could not be happier for the pair of them. Please be upstanding and raise your glasses………To the Bride and Groom~

~ But most of all I'd like to propose a toast to Ralph and Maggie. Its truly an honour to be the Best Man at the wedding of such a fantastic couple. I hope you will join me in wishing them many many years of happiness.
So please be upstanding……………To the Bride and Groom~

~ Ladies and gentlemen, please join me in wishing the bride and groom much joy in the years to come and may their only pain be champagne!
So if you would now all join me and be upstanding…………
To the Bride and Groom~
Father of The Bride Wedding Toasts
The father of the bride traditionally toasts the bride and groom at the end of his speech.
~So I end my speech by thanking you all for coming here today and helping us celebrate the wedding of Rachel and Adil. Its been a wonderful day so far and we hope it will be the beginning of a wonderful life together.
Please join me in wishing them all the very best………Rachel and Adil~
~Today is all about 2 people and their decision to spend the rest of their lives together. We all wish them good luck and much joy today and always. So please would you stand and raise your glass with me……
To the Bride and Groom~
~Now before we raise our glasses to toast the happy couple I would like you Roger to take Kylie's hand and place your own over it. Take a few seconds to cherish this special moment. I know my daughter very well and this is the last time you will ever have the upper hand! Now please be upstanding for the bride and groom……The Bride and Groom~
~I would like to say that there are definitely compensations I am looking forward to.
I know that I am not so much losing a daughter as gaining a bathroom!
....So here's to The Bathroom!~

Bridegroom Wedding Toasts
Traditionally the groom thanks and toasts the brides parents his new in-laws who in olden times would have paid most of the cost of the wedding. He may also wish to toast the bridesmaids and finally his wife.
~ I'd like you all to raise your glasses
and toast Rosalind my Bride and Joy!………To Rosalind~
~A wedding is the coming together of 2 families, and i couldn't have wished to join a friendlier family than Janey's. So I would like to thank my new in-laws - Jim and Rae first for making me so welcome and second for helping to make this day so special. I'd also like to thank my own parents for all their support and for everything they have done for us. Without the hard work of our parents Janey and I wouldn't have been able to concentrate on having such a great time today!
So please raise your glasses to………the parents~
~I'd like to end my speech by proposing a toast to my lovely wife. Without wishing to embarrass Joanne, myself or anyone else in the room by getting to slushy / sentimental…..Joanne is all I ever dreamed of.
Someone once said that to love is to receive a glimpse of heaven. Well I feel that I am truly in heaven today!
Please raise your glasses to my beautiful bride………To Joanne~

Wedding Toasts Given By The Bride
Traditionally the bride doesn't have to toast anyone. This means she may toast anyone she wishes and most usually it will be her mum and / or the bridesmaids.
~I'd really like to thank my brilliant bridesmaids Hattie, Angie and Holly for doing my make-up, doing my hair, helping me with my frock and most of all putting up with me being a complete maniac for the last 6 months. I promise girls you can now have some time off. Ladies and gentlemen please join me and raise your glasses to…………The Bridesmaids~
There is no doubt in my mind that I have found the best husband. I must be doubly blessed because I also know that I have the best mum and dad in the world. Mum all your hard work has made this day so special for Andrew and me.Thank you from the bottom of my heart. You are simply the best. And Dad I was so proud to be on your arm as you walked me down the aisle. I love you both so very much.
So before I start crying could everyone please join me in a toast to my Mum and Dad……To Betty and Jack~

Special Wedding Toasts For Little Extras
In the modern world many families have slightly less traditional set ups.
~Now of course this is a very special day for Bob and Charlotte. But its not actually the happiest day of their lives. That was of course when a certain someone was born….. their beautiful daughter Evie. And now here she is taking part in their big day by being such a beautiful bridesmaid. So I think its only right that we drink a toast to Evie.
Please be upstanding………To Evie~

~Rob isn't of course the only man in Maisy's life.
There is also her son Frankie. So its really important that on this special day for his Mum we don't forget how much she loves him
So would you please join me in a toast……To Frankie~

~Babs hasn't just gained a husband in Johnny. Her son Raul has gained a stepdad. Luckily they both share a love of fishing, trains, mars bars and, masochists that they are, following The Wanderers……… Well just as well they can enjoy the fishing, the trains and the mars bars!
But anyway please join me in a toast to Raul……….To Raul~

~Of course Rick has not just married Andrea today. He has in fact become part of a whole new family with her children Max and Alice. Max and Alice, who Andrea has brought up on her own, are fantastic kids and a real credit to her. She's gonna have her work cut out with Rick mind trying to get him up to the same high standard!
Anyway Max and Alice have been a big part of their mum's special day so I would like to offer a toast to them both………To Max and Alice~
A Few More General Wedding Toasts
~As your wedding ring wears - your cares will wear away also~
~May for better for worse be far better than worse!~
~Please join me in a toast to love and laughter and happiness ever after~
~May all your hopes and dreams come true, and may the memory of this day become more dear with every passing year~
~May the roof above you never fall in and may you both never fall out~
~Keep your eyes wide open during marriage……and half shut afterwards~
~May the love you share together be as beautiful as the bride looks today~
And finally never forget



~Love isn't what makes the world go round
Love is what makes the ride worthwhile!~
---
To leave Wedding Toasts and return to
The Better Party Ideas Home Page please click here
Toddler Party Ideas l Kids Party Ideas l Teen Party Ideas l Adult Birthday Party Ideas
Holiday Party Ideas l Halloween Party Ideas l Slumber Party Ideas l Party Ideas Blog l