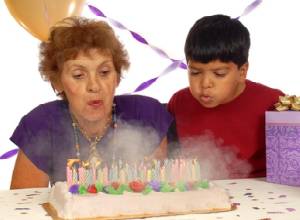 60th Birthday Ideas
Show your loved one how special they are,
With these brilliant 60th birthday ideas!

Sixty is a significant milestone in anyone's life and its important to celebrate.



A straightforward birthday party for a Super Sixty however is a bit one dimensional.
Spending a bit of time planning out something really thoughtful and special is the best 60th birthday present you can give.
For many people, as they get older, time and interaction with family - particularly grandchildren, if there are any, is what will make for a fantastic birthday. So do try to include the whole family.
The 60th birthday ideas below make great alternatives to a normal party and will show your Birthday Girl or Boy just how special they are to you.


Take A Trip Down Memory Lane
A whole day wandering around their old haunts.
60th birthday ideas don't come much sweeter.
How about checking out
The house where they were born / used to live
The school they used to attend
The cinema or other special place where they went courting
The place they used to play with their friends
The church they used to attend / got married in
The place they first went to work
Combine this with a lovely lunch in a local restaurant or perhaps a picnic with the family.
In a modern world of madness and rush, a quiet unhurried day with family, happily pottering around old haunts and reminiscing is about as good as it gets!

Birthday Breakfast

Here's one of those 60th birthday ideas with a difference.
Invite all the family and cook a fabulous breakfast or brunch.
You know best what the birthday person will want to eat whether its:
The Full Monty - bacon, sausages, black pudding, eggs, mushrooms, baked beans, toast and marmalade
Continental - croissants, pain au chocolat, brioche with jam and butter
Platefuls of pancakes
Beautiful fruit salad
Make your Birthday Breakfast extra special with champagne or prosecco combined with orange juice for a perfect bucks fizz!
"Is that the paperboy I hear ?" - Another nice little twist you can do with this one is to get hold of a newspaper from the day they were born. Many papers offer modern reprints of old editions for just this purpose. Have it plop through the letter box that morning. The whole family will enjoy looking through the news of the day from 60 long years ago.

60th Sizzle - Because Grandad Is Still A Hot Dog!
Its a Birthday Barbecue of course. Get the family and friends around for a great backyard party.
Sometimes informal 60th birthday parties like this can be a lot more fun than "proper' parties. They are certainly a lot easier to organise.
Make the food extra special though. Kebabs, fish cooked in foil and juicy steaks ......mmmm perfect!

Super Sixty Strawberry Cream Tea


A bit more refined than a barbecue and perfect for that special lady.
A traditional English Strawberry Cream Tea Party is a scrumptious way to celebrate.
Especially if you can hold it outside in the summer.
You need plenty of scones, whipped cream and strawberry jam along with sandwiches (crusts removed) and plates of cakes and biscuits. Tea should be served in china cups.
A nice touch is to have some musicians playing, such as a string quartet. The local college is often a good place to find some music students interested in earning a bit of extra cash.

Family Cinema
Many cinemas especially smaller independents will allow you to hire a whole screen room for just your family. You generally have to guarantee a particular number of people attending.
Everyone pays for themselves so the the cinema make their money but you have a small theatre to yourselves. They usually have a particular selection of films available for these private viewings.
For extra fun if appropriate everyone could dress up for the occasion. Imagine your Gran, Grandad and other relatives as T Birds and Pink Ladies for Grease!
Ask at your local cinema to see what is possible.

Day At The Races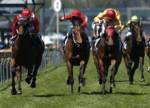 This is one of those novel 60th birthday ideas that can really be a lot of fun and provides a unique theme for your party.
Fundraising race nights are a common way for schools and charity groups to raise money but a race night also makes a great party.
Simply contact a race night company. A Google search will turn up plenty, who will supply everything you need including an announcer / compere if required. All you need to find is a venue such as a village hall or function room and refreshments.
The races are all on DVD and projected on a large screen. Your party guests can "own" horses and back others using a simple totaliser system. You can play for chips or vouchers with the person who has one the most at the end of the night getting a special prize.
If you want to add a bit of fun ask your guests to dress up as if they were going to an actual day at the races and award a prize for the sharpest couple.
This really is a great night and something a little bit different.
---
Do you know any great 60th birthday ideas?
Or did you attend a great 60th birthday party?
Please tell us all about it.
We will feature all the best ideas on these pages.


---

For Gift Ideas For 60th Birthday please click here

To leave 60th Birthday Ideas and return to
The Better Party Ideas Home Page please click here
Toddler Party Ideas l Kids Party Ideas l Teen Party Ideas l Adult Birthday Party Ideas
Holiday Party Ideas l Halloween Party Ideas l Slumber Party Ideas l Party Ideas Blog