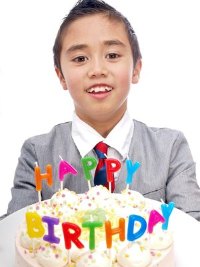 Kids Birthday Party Food Ideas
Cakes and Sweet Things
Here are a selection of easy birthday party food ideas that not only taste great but look yummy too! These sweet treats are guaranteed to make your birthday tea "tip-top-tastic"!



Great kids birthday party food ideas do not have to be complicated. Check out these sweet sensations:
Really Easy Chocolate Cornflake / Krispie Cakes

These really are a cinch to make and all kids (and most grown ups) love them.
100g Butter or margarine
100g Caster sugar
1tbsp Golden syrup
1tbsp Cocoa powder (fair-trade if possible)
Cornflakes or Rice Krispies
Gently heat the butter in a saucepan.
When it is nearly melted add the syrup, sugar and cocoa powder.
Stir and melt everything in together
Add a couple of handfuls of cornflakes or krispies and stir just hard enough to mix in but not so roughly that you break up the cereal. Be firm but fair!
If needed add additional small amounts of cereal until you have a good claggy mix and all the cereal is covered.
Put a spoonful of the mixture into paper cake cases.
Leave to set. (You can refrigerate but there is no need)
Jolly Jelly Boats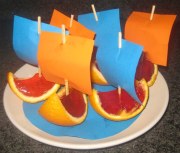 These colourful jelly boats are always a hit at birthday parties. Take some larges oranges and cut them in half. Scrape and squeeze out the inside taking care not to pierce the skin.
Make up any fruit flavoured jelly according to the packet instructions. 3 large oranges to 1 packet of jelly mix is usually about right and that will make 12 boats. Place the orange skins on a baking sheet (or in the tart holders in a tart / muffin tin to stop them tilting) and fill with the melted jelly mixture, making sure they are full to the top. Refrigerate until set.
Once they have set cut the oranges into 1/4 wedges using a sharp wet knife. Attach a paper sail to each boat with a cocktail stick.
Organising a pirate party? Add a skull and crossbones to the sails and turn them into "Jelly Jolly Roger Boats".
Chocolate Hearts
The great thing about these biscuits is they need no baking. Ingredients:
200g Rich tea biscuits
130g Butter
3 tbsp Golden Syrup
2 tbsp Cocoa powder (please try to use Fairtrade)
50g Raisins
50g Chopped hazlenuts (optional)
100g Milk chocolate (please try to use Fairtrade)
Icing sugar to decorate
Put the biscuits between 2 clean tea towels and break into uneven crumbs with a rolling pin.
Gently melt the butter and syrup in a pan.
Stir in the cocoa powder, raisins and nuts.
Add the crushed biscuits
Spoon the mixture into a 20cm square buttered baking tin
Press down firmly filling in all the corners to form an even base.
Melt the chocolate in a heatproof bowl resting in a pan of simmering water
Spread the melted chocolate over the biscuit base and chill in a refrigerator for about an hour.
Use a cutter to make heart shapes (or anything else you fancy
Use templates to decorate with icing sugar designs
Jelly Babies In Bed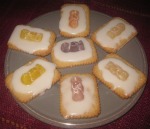 One of the most traditional and fun kids birthday party food ideas. Every child will want one of these neat little biscuits on their plate.
Simply take any suitable biscuits or cookies either home-made or shop bought. Add a liberal smearing of sugar icing. Add a jelly baby sweet. Tip - you may like to trim the back of the jelly baby so it lies in bed properly.
This idea can be easily adapted for particular party themes. for instance "Bats in Bed" on orange icing at a Halloween Party or "Teddy Bears In Bed" at a Teddy Bears picnic party.
Marshmallow Krispie Bubble Bar
These bars are sticky and sweet. Perfect for birthday parties.
1 Good mug of shop-bought marshmallows
60g Butter
2 Good mugs of Rice Krispies or similar breakfast cereal
Good handful of hundreds and thousands
Line an 18 x 28 cm shallow baking tin with foil or baking paper
Place marshmallows and butter in a pan and stir gently over a low heat until both have melted
Place Rice Krispies in a large bowl and add the marshmallow butter mix and mix well
Add the hundreds and thousands and gently mix in
Pour the mixture into your baking tin and smooth the surface.
Allow to cool and set
Cut into bars
Psychedelic Fairy Bread
Kids birthday party food ideas should always be a little different. OK you wouldn't want them eating this every day but hey its a party!
Slices soft bread
Soft butter
Sugar sprinkles - various colours
Spread the bread with butter on one side and slice off the crusts
Place a cookie cutter in the middle of the slice to act as a template
Sprinkle the sugar strands on either side of your cookie cutters to make cool patterns
Remove the cookie cutter and gently press the sugar strands into the butter so they stick
---
You're party tea can't just be sweet things.
Check out these tasty savoury treats!
Kids Birthday Party Food - Super Savouries
---
Do you know any great kids birthday party food ideas?
Or does your family have a special treat they always use?
Send them in to us and we will include them on these pages.
---
---
To leave Kids Birthday Party Food Ideas and return to
The Better Party Ideas Home Page please click here
Toddler Party Ideas l Kids Party Ideas l Teen Party Ideas l Adult Birthday Party Ideas
Holiday Party Ideas l Halloween Party Ideas l Slumber Party Ideas l Party Ideas Blog l