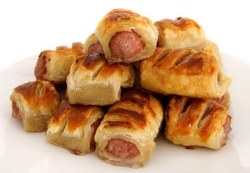 Kids Birthday Party Food Ideas
Savoury Sensations!
Kids birthday party food should include all their savoury favourites.




Kids, especially younger ones, like the familiar. But its still possible to give some of the old favourites a party twist.
Check out these tasty party treats:
Crudities And Dips
Most kids are used to dips and for many parents it is a cheat way to get children to eat certain vegetables. You can buy a variety of suitable dips from stores but it is a simple matter to make your own.
Sour Cream Dip
150ml creme fraiche
2 spring onions (very finely chopped)
1 tbsp lemon juice
Lightly mix all the ingredients together. Can be made well in advance and kept in fridge until needed
Kids Guacamole
2 ripe avocados
2 tbsp mayonaise
1 teaspoon finely chopped coriander (cilantro) leaves
2 tbsp creme fraiche
Whiz up the avocado, coriander and mayonnaise in a food processor. Put in a bowl and stir in the creme fraiche. This dip needs to be made shortly before the party to avoid discolouration.
Dippers
There are all sorts of things that make great things to spoon up your dips:
Cheese straws
Crisps
Tortilla chips
Toasted pitta bread (cut into strips)
Thin potato or sweet potato wedges. Toss in some olive oil and roast in the oven for 35 - 40 mins. Serve hot or cold.
Sticks of raw carrot or celery
Sandwiches With A Difference
Sandwiches of all kinds are a staple kids birthday party food. Make them more fun by using cookie cutter shapes to give them a party twist. Stars, circles and crosses all work well. You may also be able to theme your sandwiches to match your party ie witches hats at Halloween, crowns for princesses or simple dinosaurs or animal shapes.
Most popular kids flavours:
Egg, mayonaise and cress.
Ham
Cheese and marmite
Peanut butter and banana
Bacon
Another way of doing sandwiches to make them a bit more exciting is to spread a square slice of bread with butter and jam. Cut off the crusts and then carefully roll up as if you were making a Swiss Roll. Cut the roll into thin slices to make swirly circular sandwiches.
Pitta Pockets
Small pitta pockets are an interesting alternative to sandwiches and make a brilliant kids party food. Prepare the fillings in advance and make up at the last minute. Pitta bread is best sprinkled slightly with water before toasting very lightly (the toasting also helps puff the pocket). Cut in half and add a filling:
Drained tuna mixed with shredded carrot and mayonnaise
Cheese (grated), bacon and tomato
Chopped cooked chicken breast with avocado
Sausage Specials / Wonderful Weeners
Sausages On Sticks
Can you imagine a kids party without sausages on sticks. What were you thinking?!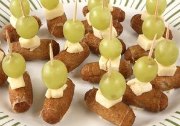 Cutting the sausages into pieces about 2 cms long and adding a 2cm square of bread spread with tomato sauce to the stick makes an interesting mouthful.
There are also plenty of ways to make your sausages more interesting. Try cheese and grape like in this picture.
Mini Hot Dogs
Another popular addition to the party table. Choose small chipolata type sausages and rolls, buns bread of your choice. Tomato ketchup might be a welcome addition for many children.
Pigs In Blankets
Usually found on a Christmas dinner plate these tasty snacks are great for kids parties too. Take a chipolata sausage and wrap it in a rasher of bacon. Use a cocktail stick to hold it on. Bake in the oven for about 30 mins. Remove the stick before serving.
Other Savoury Party Treats
Garlic bread
Always popular with children garlic bread makes a great kids birthday party food. Make a garlic butter by combining crushed cloves of garlic with a soft butter. Take a part-cooked ciabatta type loaf. Make a series of slices / cuts about 3/4 of the way through. Spread these cuts with your garlic butter. Wrap in foil and bake in oven for 10 - 15 minutes.
Cheese And Bacon Tarts
Makes about 24 tarts
Shortcrust pastry. Shop bought or follow your favourite recipe.
2 Rashers of bacon very gently fried then finely chopped
1 Small onion very finely chopped
100ml Cream
1 Egg 1/2 tsp Mild mustard
100g Grated cheese
Preheat oven to 180C. Brush 2 shallow jam tart / patty tins with melted butter
Roll out pastry on a lightly floured surface and cut out rounds with a cookie cutter. Place into tins as for making tarts.
Place sprinkling of bacon and onion in each pastry case
Combine egg cream and mustard in a small bowl. Spoon 1 tsp of mixture into each case on top of the bacon and onion
Bake for approximately 15mins until golden. These are best served warm

---

Got a sweet tooth? Check out our page of Sweet Sensations
Kids Birthday Party Food Ideas (Sweets and Cakes)


---

---

To leave Kids Birthday Party Food Ideas and return to
The Better Party Ideas Home Page please click here

Toddler Party Ideas l Kids Party Ideas l Teen Party Ideas l Adult Birthday Party Ideas
Holiday Party Ideas l Halloween Party Ideas l Slumber Party Ideas l Party Ideas Blog l