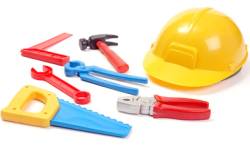 Construction Birthday Party
Its no work and all fun
At this Construction Birthday Party!




There are no shortage of youngsters, both girls and boys who love anything to do with the busy world of builders and construction.
It also makes a great theme for a toddlers party.
Don't worry Mum and Dad everything you need is here.
Can we fix it? Yes we can!
Construction Birthday Party Invitations
You can buy plenty of Bob The Builder party invitations and similar from party supply stores but it is also great fun and cheaper to make your own.
Here are some ideas:
Find a local construction site and photograph your child in a safety helmet holding a "Come To My Construction Birthday Party" notice. (Use common sense - do not go anywhere dangerous) Print and use the pictures for your invites
Use toy building blocks with letters to spell out PARTY. Photograph and incorporate into your design.
Use lego to spell out PARTY. Photograph and incorporate into your design.
Write the word PARTY on a brick (use black marker pen). Photograph and incorporate into your design.
Construction Party Decorations
Use black and yellow construction tape (available from builders merchants) here and there to show that you are on a construction site. Traffic cones are also cool (available from hire shops).
Use coloured construction paper to make cut-out templates of houses and other building projects. Stick them to the walls (at toddler height of course).
Use card to make "Men / Girls At Work" road signs etc. Put them up around your venue.
Paint and cut out from card extra large tools such as spanners, hammers and saws and hang them around your venue.
Construction Birthday Party Costumes
This is really easy:
Work jeans
Plaid builder's shirts
Tool belts
Big builders boots or wellingtons
The other thing every construction worker needs is a safety helmet.
You can buy cheap plastic versions of these at party and toy stores. You may like to have one ready for every child as they arrive, to wear at the party, and then take home.
Don't forget that grown ups should dress the part too.
So come on Mum put your helmet on!
Construction Birthday Party Games
Many normal toddler party games can be easily given a construction twist. The trick is to keep things simple and fun.
Toddler games should not be complicated.
And remember - For a truly great Construction Birthday Party
Its always more fun when Mum or Dad join in too.

Spade and Bricks
~Steady spades and concentration are needed here~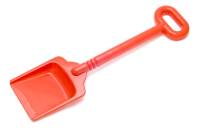 This is a simple version of the egg and spoon race.
Divide the kids into 2 teams. In turns they race to the end of the room with a plastic sandpit / beach spade. They then place a wooden block on the spade and carefully carry it back to their team.
The degree of "holding" depends on the age and ability of the children. You can also include slightly older kids by having them carry a stack of 2-3-4 blocks on the spade.


Tumbling Towers
~How high can you go?~
This is another really simple idea but one that young kids can do and will be comfortable with.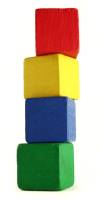 Set up each child (or work as pairs) with a pile of toy blocks.
On "Go" start a one minute countdown.
They have to see how tall they can build a tower without it toppling.
If it falls quickly start again.
At one minute you shout "Stop".
The winner is the builder with the tallest tower.
Parents may like to supervise / join in with their young architects but beware competitive mother syndrome!!! (Yes mums you know who you are!!)

Wacky Wheelbarrows
~This race is "wheelie great!"~
You need 2 kids toy wheelbarrows for this game.
Really this is a simple wheelbarrow race.
Divide the children up into 2 teams. In turn each child pushes the barrow along and back along a marked course. This may be in and out of cones (or chairs) or a course of your making.
At the half-way stage they should put something in the barrow such as wooden blocks or a soft toy to bring back to their team.


Builders Boots
~How far can you bung your boot?~
This game draws its inspiration from that favourite at school fairs and village fetes Welly Wanging!
In turn the children have to see how far they can throw a (toddlers) wellington boot.
Adjust the throwing line for the age of the child.
Mark the landing spots with little name stickers.
The winner receives the prize of the Golden Boot Certificate (or at least some chocolate)
If space is limited you could have the kids try to throw the welly into a builder's bucket.

Musical Houses
~Round you go until just one house remains~
This is a version of musical chairs.
In advance of your party download and print A4 pictures of houses.
You need one house for each guest.
Stick these to the floor with tape in a line down the centre of the room.
The children dance or walk around the pictures while some music plays (the theme to Bob The Builder would be suitable).
When the music stops though they all have to try to sit on a picture. One child per house. This is then repeated.
After a few practice goes start removing houses. Any child who cant find a house when the music stops is out. Continue until one child emerges as the winner.
Tip: You may like to include a course marked with a couple of cones or chairs to be walked around in the final stages to ensure a race to the final houses and not a scrap.
---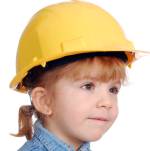 We also have some brilliant Construction Party Ideas for older children in the Kids Party Ideas section.
Construction Party Ideas For Older Kids

---
To leave Construction Birthday Party Ideas and return to the
Better Party Ideas Home Page please click here
Toddler Party Ideas l Kids Party Ideas l Teen Party Ideas l Adult Birthday Party Ideas
Holiday Party Ideas l Halloween Party Ideas l Slumber Party Ideas l Party Ideas Blog l