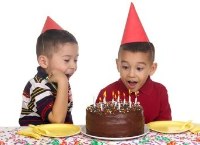 Kids Party Food
Don't get stressed
Kids party food is easy




Feeding other people's children can always be a bit worrying and its easy to become a bit obsessed. What will they like? How much food should I make? What if they leave it? Should I go for fun or healthy? What will the other parents think?
To be honest having to worry a lot about the food is a little unfair. After all you also have the other pressures of the party to attend to as well. The games, the activities... and hey you do want to see your kids enjoy themselves on their special day not be stuck out in the kitchen!
This is where preparation and having a couple of good friends or grandparents comes in. Food preparation at the party itself should really involve little more than setting out and plating up.
So do yourself a favour. Stop worrying. It is not your responsibility to provide a nourishing meal. Although for the kids party food is an important part of the event for them it is unlikely to be the main highlight. Relax and make the meal part of the party fun.
Kids Party Food Guide:
All parties are different but here are the things usually found on party plates:
Savoury Treats: Sandwiches, rolls, mini quiches, cheese, cheese straws, pizza, crisps and chips, vegetable dippers, sausages, sausage rolls, slices of ham, chicken drumsticks.
Sweet Treats: Small biscuits, cakes, cornflake clusters, rocky roads.
Fruit: Grapes (halved for young children), satsuma slices, strawberries. There is no need to obsess about fruit at a party but most kids will usually at least put a few bits on their plates!
Jelly and Ice Cream: Not vital but still popular with some children.
Drinks: Even orange squash tastes special when served in a party cup with a parasol stuck in it! Cola and other fizzy drinks if you really want to.
The Birthday Cake: The pinnacle of the birthday tea. Shop-bought or home-made it s the candles and the singing that matter to the birthday boy or girl!
Keeping Things Simple
Here are a few pointers to keep things as simple as possible:
Have other parents help you serve and supervise.
Unless you are deliberately doing a buffet keep the children sitting up nicely at a table. If some finish before others try to keep them in their places in order that they don't distract the slower eaters. Children should never be allowed to run around eating anything.
Use small plates. Kids eyes are bigger than their stomaches, especially when faced with crisps and cakes. Larger plates encourage kids to pile it on …only to leave it later.
Keep portions small. Cut sandwiches and pizza slices etc into quite small pieces.
Have a few back-up packs of shop bought crisps and biscuits. If you have misjudged quantities you can then always produce a bit more. If un-opened however it won't be wasted.
Children can be picky eaters so keep things simple. Even if your own child likes spicy food it might be too much for others.
Younger children especially like the familiar. It may be a party but they really might be happier with things they recognise from every day.
With kids party food presentation is everything. Remember the cheese and pineapple (on cocktail sticks) hedgehogs of your childhood. Finding novel ways to present the food can be lots of fun.
Its fun to try to tie in kids party food with any party theme you are using but you don't have to go over the top. Calling food by different names can often be all you need. For instance a ham roll becomes the "Surfers Special" at your Luau Party or a chocolate krispie cake becomes "Monster Bogies" at a Halloween Party. You can also usually add to your party theme with particular paper plates and cups.
The Birthday Cake will always be the highlight of the party tea. Never expect the kids to eat it there and then however. Instead wrap pieces in napkins to take home with them.
Rewards - this is a simple trick that works well. Have some stickers ready for kids finishing their plates. You can easily make your own with computer address labels. Call them something jokey like "Top Nosher" or Jelly Belly Club"
Don't forget the parents. Get a grandparent or a helper busy with cups of tea etc.
---
So....... what have we learned? Kids party food does not have to be complicated or stressful.
There will always be one kid who eats everything put in front of them. There will always be another who eats nothing but crisps and ice cream. But you knew that anyway didn't you...... after all you're a parent!!
---
Got a sweet tooth? Check out these sweet sensations.
Kids Birthday Party Food Ideas - Sweets And Cakes

What about savoury? Try these tasty treats
Kids Birthday Party Food Ideas - Savoury Treats

---
---
To leave Kids Party Food and return to the
Better Party Ideas Home page please click here
Toddler Party Ideas l Kids Party Ideas l Teen Party Ideas l Adult Birthday Party Ideas
Holiday Party Ideas l Halloween Party Ideas l Slumber Party Ideas l Party Ideas Blog l